When Odoo announced that Odoo Experience 2021 would be held at the beginning of October, excitement was in the air even though it would be held online like the previous edition. Odoo Experience is an annual event for users and partners of Odoo as well as business managers alike to felicitate. It is also an event where outstanding Odoo contributors and partners are awarded, but there's more – this year it was the flagship event for the release of Odoo 15.
At the event, Odoo CEO Fabien Pinckaers announced the release of Odoo's latest version - Odoo 15. And like our practice, here is a glance into the latest version of our beloved ERP solution.
Features From Odoo 14
It is said that we lose our way when we forget where we are coming from. Hence, it is only wise to examine the last version of Odoo before we look into Odoo 15.
With Odoo 13.2, only users of Odoo Online experienced all features in real operations. However, with Odoo 14, all users had access to all the features, irrespective of their hosting platform.
Other important features of Odoo 14 include some of the following;
Gmail and Outlook plugins to automate communication logging

Improved website builder

Data Cleaning module to aid deletion of duplicated data

Automated CRM
If you think Odoo 14 is fantastic, then be prepared to be wowed by Odoo 15.
New Look to An Improved ERP Solution
Odoo is an ERP solution with a difference. It relies on its astounding user experience and complete business solution to appease the market it serves. With its latest version, Odoo 15, you are afforded new features, benefits, and improvements that make business processes exciting for all stakeholders.
It is important to note here that some of these improvements are only in the Odoo Enterprise version which is a licensed version of Odoo. You can see our comparison of the two editions - Odoo Community and Odoo Enterprise - here.
There are so many things to look forward to in Odoo 15, so let's get to it.
The Website Builder is better on Odoo 15
One of the biggest improvements in the latest Odoo version is the website builder which affords a greater and more user-friendly interface. In this version, not only can users build websites through a website template or buy from the Odoo store, but they can now enter custom HTML codes in a building block to aid functionality.
As shown in the image below, users can access the "embed code" section when editing their website. With it, they can add more functionality to any part of the site.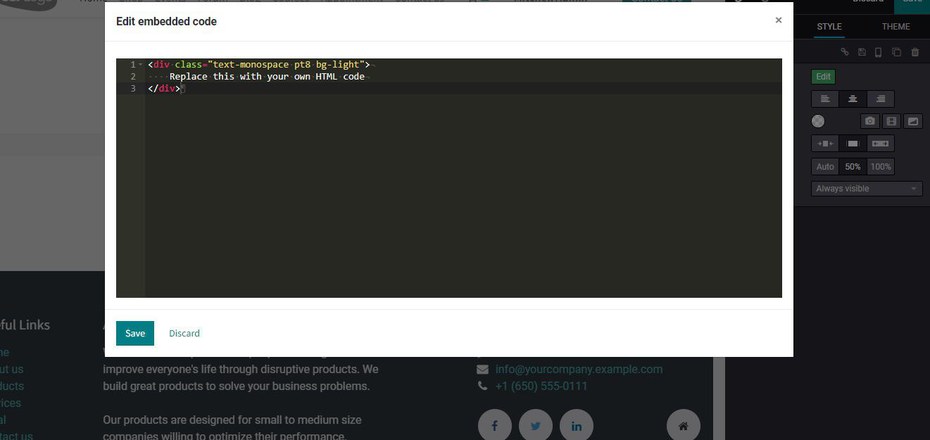 Users who aren't vast in programming can rely on the improved website configurator; an Artificial Intelligence engine used to create websites based on industry and preferences.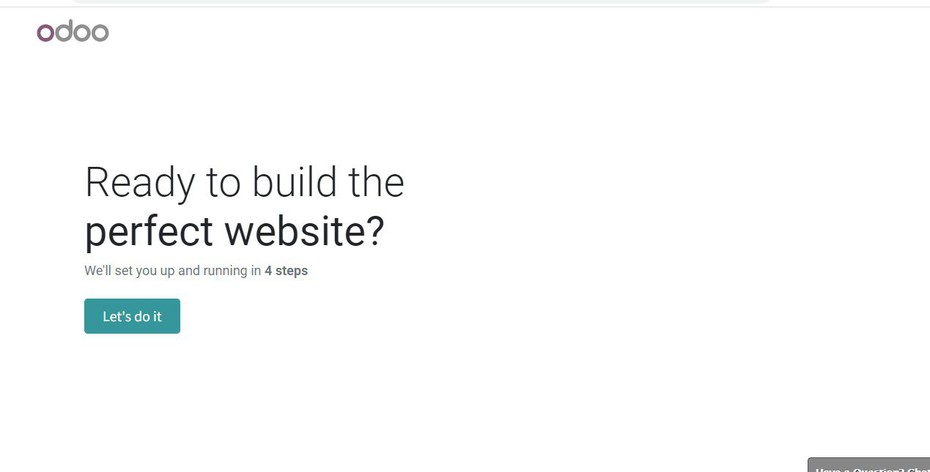 Other features of the website builder in Odoo 15 include animations to images, text, and columns, several background images to choose from, and the ability to share coupons via various mediums.
What's more? Should you have the need to upload documents on your website and want users to download, you can customize how with Odoo 15. You can choose a preferred design for the website visitor to download the document.
You will also find improvements in Google Analytics integration, newsletter pop-up design, templates, themes, video building blocks, and so much more.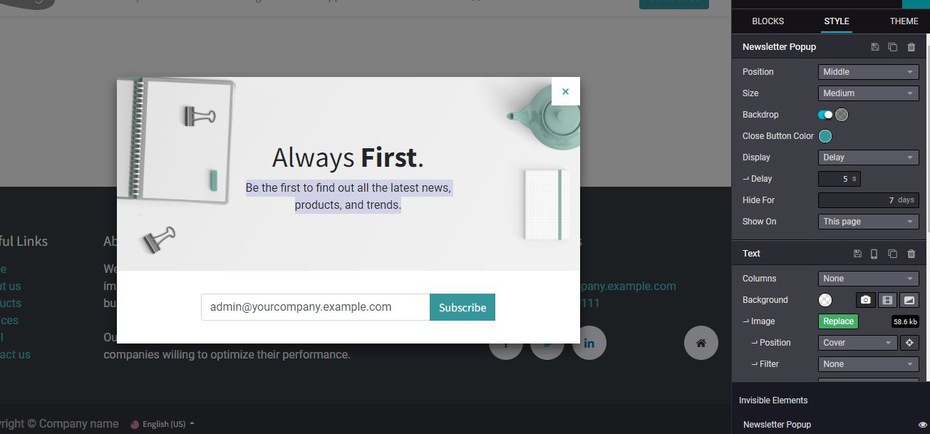 What's new with Finance?
Odoo 15 also saw improvements in various modules related to finance - from invoicing and accounting to the Point of Sale (POS) and Expenses applications. For instance, on the Financial Report Lines, you will find Control Domains, a debug feature to find missing or mistakenly counted accounts.
Currencies conversion rates are now in a revamped form view to eradicate confusion. In VAT, Odoo 15 now supports businesses that charge foreign VAT – which are charged in foreign currencies.
In the Expenses module, should you need to create a similar expense twice, you will be asked if it is a duplicate. You can also create expenses in foreign currencies.
POS has a new look
Before now, users could only use coupons and promotions in the sales module - the features are now available in the Point of Sale module! This is a great way to encourage customers to buy from you.
To activate this and manage the new features, go to the POS module, then click on Settings as shown in the image, Configuration →  Point of Sale → Pricing. Then flag the Coupons and Promotions and click Save.

The POS module in Odoo 15 also has features, including the Pay Later and Pay Partially features, a single screen for finding all ongoing and paid orders, and many more.
Improvements in Sales and CRM
There are three major improvements in the Sales app. First, there is a great development in the pricelist configuration. Users can now configure item form views, including a simulation in the Pricelist module.
You can now get pictures of products in the Product module through their UPC/ EAN barcode numbers. All you will need is a Google Custom Search API key. Finally, Terms & Conditions will now appear as a web page with default content that can be edited. A default link will be available on every Sales Order.
The upgrade from Odoo 14 to 15 also saw new developments in up to 11 different areas in the CRM module. Interesting features include the Predictive Lead Scoring feature, which helps you rank the relevancy of your leads based on selected criteria.
The Mail Connectors – Outlook and Gmail add-ons – now support all Odoo languages. Users can also create Leads, Tasks, and Helpdesk tickets from emails and send them to personal email addresses.
Building sales forecasts has also gotten easier. All you have to do is drag and drop opportunities between months, and the deadline gets updated to the last day of the month.
To do this, on the CRM app → Reporting → Forecast page, click the Create button on the top left corner.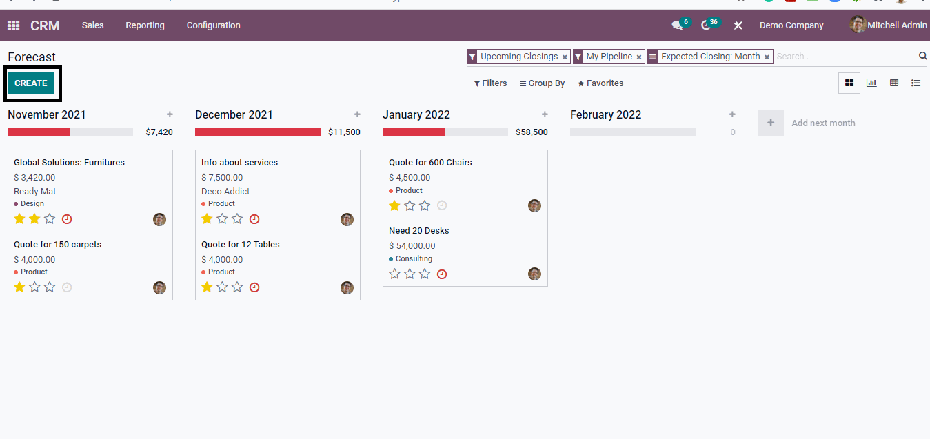 Next, hover on an initial opportunity in the catalog then drag it to the new sales forecast you created. You can also drag and drop opportunities between old sales forecasts.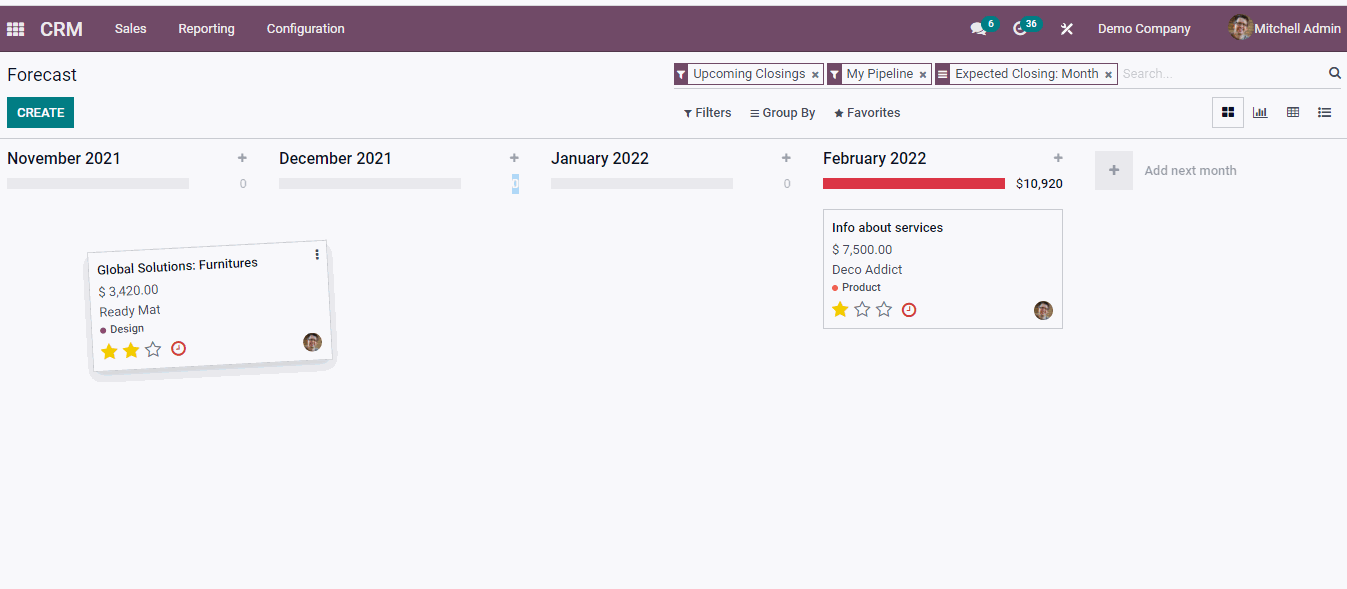 A better way to take Inventory
Odoo 15 opens up a new and excellent way to take inventory on the ERP solution. A complete redesign of inventory adjustments is the first delight. Then you will find out that you can now identify negative stock and double Serial Numbers, see history on each quantity, easily solve conflicts, and count anything anytime – all without any adjustment in the inventory.

In Odoo 15, reservations can now be automated or triggered days before the scheduled dates. In the Forecast Reports, for example, users can now reserve, unreserve, and change priorities directly in the report. And in replenishment, you will have a direct overview of vendor prices and delays. Other improvements in Inventory showed up in features like multi-step routes, Units of Measure, reception, putaway, and reordering rules.
Marketing on Odoo just got bigger and better
Odoo knew if all will go well with a business, then its marketing strategies must be right. So, it is no surprise that there are improvements in this area as well. In SMS marketing, when SMS mailing is sent, a recap is automatically sent after 24 hours to show results. If there are failed SMS, they can now also be sent in one go.
In social marketing, Odoo 15 has made it possible to link social accounts to individual companies within a multi-company environment. When you link your company's Instagram page or YouTube channel to Odoo, you can also post from the new Odoo dashboard.
There are also improvements in email marketing on Odoo. You can create mailing lists on the fly and move contacts between these lists. Users also no longer have to edit code after the email templates have been moved to QWeb. This will make customization robust and aid email editing in their final rendering.
Why Migrate to Odoo 15?
It is no longer news that Odoo releases a new and improved version of its ERP solution every year. These improvements come from experts' observation and customer feedback to help facilitate more effective business operations with automation and digitization.
Now, the Odoo software is like no other. Its comprehensive functioning and structured solution make it the go-to system for thousands of organizations worldwide. If you use an older version of Odoo, upgrading to a newer version should be on your important to-do list. 
Not only will you be able to access new features that make business operations easy, but you will also get the best support from the Odoo team or one of its trusted partners. More importantly, Odoo has stopped support for version 12, so you will only be able to get the support you need for versions 13, 14, and 15.
You must know, however, that upgrading to a newer version of Odoo is one thing. Getting your customizations and 3rd party applications ready on the new version is another. So, ensure you are in touch with a trusted Odoo partner. If you have questions about Odoo 15 and how to upgrade, you can reach out to our award-winning team. We will be happy to help!