Senior IT Architecture / Infrastructure Consultant in Singapore
Job Description
Analyze and design technical infrastructure for customer's organization especially related to ERP project implementation.

Collaborate with project team (software/data engineers) to build a reliable system (both infrastructure and application) 

Be Involved in the sales process to propose full ERP solutions including solution design.

Help complete and detail business proposals and interact within the pre-sales stage with potential customers. 

Design processes and procedures for cloud operational teams to maintain and monitor running systems to ensure optimal uptime and performance.


Requirements
Bachelor's degree or equivalent work experience.


2,5+ years of previous experience.  

¨Strong attention to detail and organization.

Strong in leadership and communication (includes presentation) skills.

Fluent in both written and spoken English.

Troubleshooting experience, project management competence, dependability, initiative, and professionalism are of the utmost importance. 

Good knowledge of Network Security.

Acceptable knowledge in Software development is preferred (Python, Java, etc).

Good knowledge of RDBMS (PostgreSQL preferred but not required).

Experience in backend infrastructure and service support (Proxy, firewall, DNS, etc) is a plus.

Good knowledge of the Linux operating systems preferred.

Experienced in cloud service management (Google Cloud Platform, AWS, Digital Ocean, or other cloud platforms).

Understands the criteria and specifications of PAAS.

Any experience with Odoo is a plus.


Send us your CV
Send us your CV with information about your skills, past work experience & relevant projects you took part in.


Interview with our HR
You will meet ladies from our HR team to discuss your skills, motivation & fit for this job position.


Job Interview
You will have a chance to meet our CTO Denis, who will discuss with you mainly your technical expertise.


Technical case study
We would like to see your skills in action - we will challenge you with a case study to see how you solve problems.


You get a job offer
After you successfully pass all the steps, we will get back to you with a job offer to join our team on-site or remotely. 
International team
Our team has branches in 10 countries and you can work with colleagues from 15+ different nationalities!
Regular Training
You will get assigned your own coach who makes sure that you have proper training & knowledge for your job.
Career Growth
Twice a year, we assess your knowledge, skills, performance &  and revise the wage, if applicable.
Constant Learning
You will meet customers from different industries, backgrounds & company sizes. There is a lot of opportunities for learning.
EXTRA BENEFITS

  PERFORMANCE BONUS
Your salary package depends on the performance of your department - the more you sell or contribute to project delivery, the more bonuses you get. 
WORK REMOTELY
This position can be fully remote - you can work from home or from wherever you like. In case you prefer working in the office, we have 12 of them worldwide!
EXTRA DAYS OF LEAVES
Did you work an extra day or needed to finish preparations for go-live on time? Get an extra day off.


HIGHLIGHTS
ODOO ENTHUSIASTS
We at Port Cities love Odoo & we keep up with the newest trends & versions.


HONESTY
We believe that open communication & honesty is key to solve the majority of issues.


SMART SOLUTIONS
We are consultants & our main goal is to find the best solutions for our clients.
Your future colleagues
Putra, Project Manager
"Working as Project Manager in Port Cities is a great experience for me. Managing various projects with various business processes is the challenge that makes me improve my skills. Working together with a team who come from various cultures and skills is also a kind of experience for me. We can get to know each other, build great teams, and share ideas. They can not only be good colleagues but also good friends."
Franck, Senior Software Engineer
" After working a couple of years in a startup, I joined Port Cities as a Solution Engineer. Everyday work in Port Cities is challenging and at the same time exciting, as we work on various business cases from all around the world. The team is composed of people from over 15 different nationalities creating a nice mix of cultures. Port Cities management values a lot of autonomy, self-responsibility, and flexibility which creates a perfect atmosphere to work and self-development & improvement. "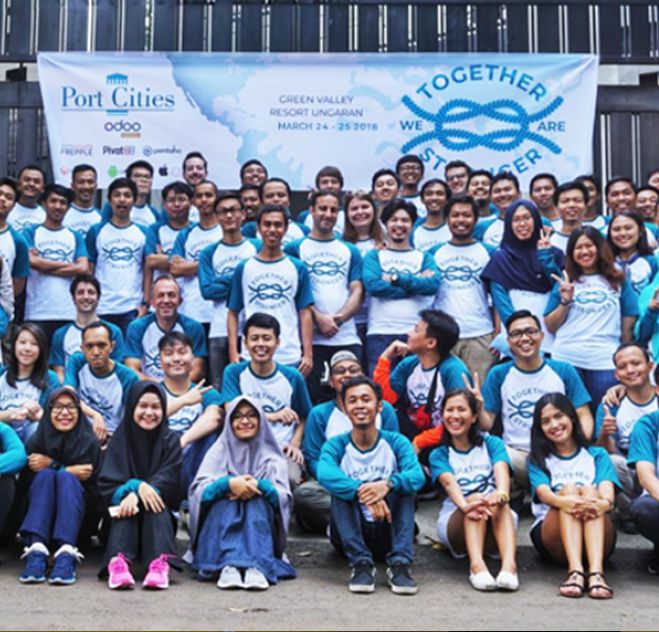 About Port Cities


12 branches on 4 continents


270+ Port Citizens
The best Odoo partner in APAC


500+ successful ERP implementations