Odoo - OnlinePajak Integration
OnlinePajak is a fully integrated web-based tax application allowing taxpayers to perform calculations, payments, and tax reporting in a single place seamlessly. With a strong technical background, Odoo and OnlinePajak is the only IT system your company needs.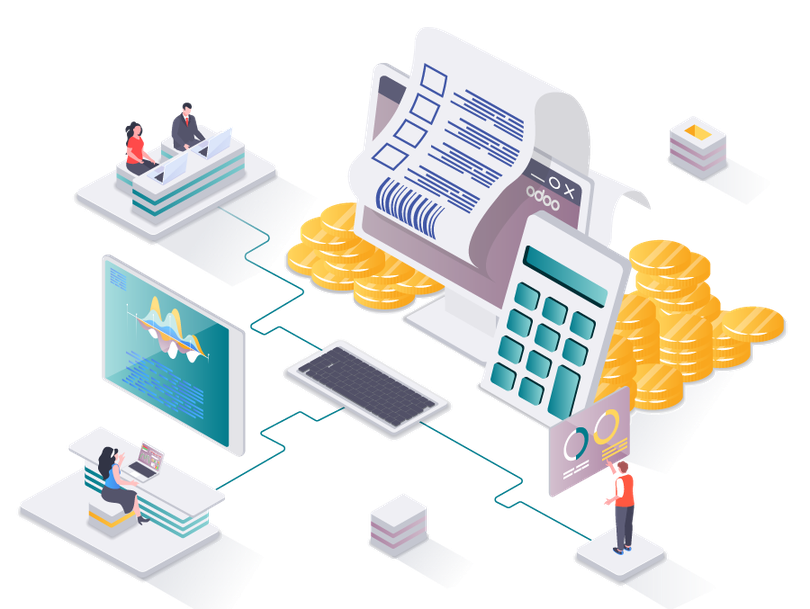 Why use Odoo - OnlinePajak integration?
Easy to use
Thanks to the user-friendly and intuitive interface, it's easy to manage your core business processes and have an overview of your business's financial health at any time.
More efficient processes
No more complicated accounting and invoicing. OnlinePajak integration for Odoo, will make your accounting processes much more efficient.
Smooth integration
All the actions you do in Odoo's invoicing will be seamlessly integrated into OnlinePajak. Invoices are automatically imported into OnlinePajak where you can approve e-faktur generation, afterward it is sent automatically by email to customers.
Create, pay and report
No need for CSV files or spreadsheets. Increase the efficiency of your tax processes with automatic tax calculation, payment, and reporting.
Reconciliation & reports for your transactions
With OnlinePajak reconciliation feature, you can fully track transactions and tax returns.

Create invoice & tax invoices
With OnlinePajak you can create customizable invoices with your company logo, it also allows you to check if the client accepted the invoice or not and you can create a custom portal for your clients to manage the taxes you sent to them.
Employee tax
Increase efficiency with OnlinePajak Employee Tax automatic calculation feature. You can also integrate OnlinePajak directly with Payroll and HRM system.
Migration of historical data
Migrate historical data from your desktop e-invoices to OnlinePajak. You can also upload e-invoices by scanning QR codes.
Automatically validate your clients' information
Minimize risk or issues during an audit by making sure you have up-to-date information about your clients. OnlinePajak also automatically identifies used NSFP
Automatic purchase recording
OnlinePajak will automatically record a new transaction every time you will make a purchase.
How the Odoo-Online Pajak integration works
1. Tax configuration
Request your company's invoice serial number (NSFP - Nomor Seri Faktur Pajak) from the government tax department. Fill assigned NSFP to Odoo to be able to generate invoices.
2. Generate an invoice
When you generate a new invoice, it's sent automatically to OnlinePajak as a draft. All information filled into the invoice in Odoo is updated in OnlinePajak. When you are done, you will move the invoice for approval.

3. Approval of the invoice
When your accounting department will approve the invoice, its status in OnlinePajak is changed from the draft to approved, and the invoice is submitted to the government tax department.
4. Send invoice to the client
After the invoice is approved by the government tax department, OnlinePajak will create a link in Odoo, where you can download your invoice with a QR code and send it to the client.
INCREASE EFFICIENCY OF YOUR TAX PROCESSES
CONTACT PORT CITIES
Port Cities is an Odoo implementation partner ready to assist you with designing your Odoo ERP solution. This contact form helps us understand your needs.
DISCUSS YOUR NEEDS
Based on the provided information, our consultants analyze your requirements and organize a demo to show you how Odoo - OnlinePajak integration works for companies like yours.
GET A TAILOR-MADE SOLUTION
After the demo, we will implement OnlinePajak integration into your Odoo system.
Frequently Asked Questions