The question businesses must answer today, regardless of the industry of operation or size, is, "how watertight are your departments?" Do they function differently and with little interaction daily, or is there some interaction and resource sharing between them?
In the conventional business process, each department, such as administration, finance, inventory, logistics, public relation, and human resources, functions differently, and information across the board has to be fetched each time through various means. This approach is not only time-consuming but also encourages data duplication.
All that is true until the emergence of Enterprise Resource Planning (ERP) systems like Odoo. Business processes have become more manageable, integration and communication between departments have improved, and data availability in real-time to ease decision making has been prioritised.
Meanwhile, an ERP like Odoo is not a simple system but a huge software architecture that helps organisations' departments work together seamlessly and communicate better. How does it do all of that? And more specifically, which of its apps does the wonders that improve workplace productivity?
We will discuss all of that in this piece. But isn't the topic of productivity a sensitive one? And if we will do justice to the subject, we must agree that there is nothing more critical to a business or organisation than its people.
With that understanding, we know that if an organisation's workforce – its employees and management board – are happy, their productivity level will ultimately increase. That is precisely what you need to help a business grow.
If you are interested in business growth, this is the one piece for you. Let's get to it.
How Does Odoo ERP Improve an Organization's Productivity?
Before we discuss the Odoo tools that improve workforce productivity, let's look into the features that allow Odoo to improve an organisation's productivity.
Odoo is a centralised system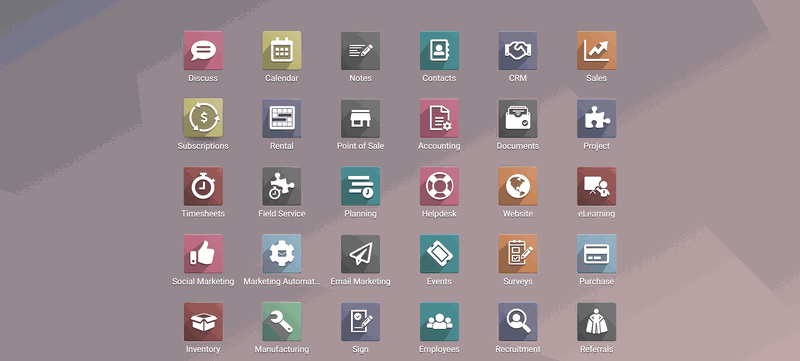 What happens in a decentralised system? The sales department gets an order from a  customer and checks for the product's availability with the inventory department. If it is unavailable, they alert the production team to produce more.
Meanwhile, the production department needs to ask the inventory team for the stock of raw materials and semi-finished goods. It can mean that they have to order raw materials.
If they forget to tell the finance department before placing the order, payments to the vendors may be delayed. By the time all of these processes are completed, the customer has gone to a competitor.
How does Odoo erase that problem? Odoo provides one single point of management. Stock management, inventory, finance, purchasing and procurement and all taken care of on a single platform. The best feature of Odoo is all of these processes are integrated, meaning data is centralised and no more double manual entries. 
That way, users do not have to prepare supplier orders or monitor stock manually. All processes are automated, and customers are kept happy.
It involves the entire stakeholders
Odoo is user-friendly and gets all stakeholders – no matter their positions or tasks – involved. While Odoo has hundreds of apps with several processes underneath, it isn't a sophisticated system only to be understood by technicians and programmers.
It is a system designed to help every contributor get their work done as effectively as possible while eradicating needless repetitive tasks on different platforms. 
It is equipped to help managers and decision-makers define requirements, permissions, and business processes to enhance organisational productivity. Users can also be set different access rights to protect the information's confidentiality and improve accessibility while storing data in one place.
Odoo is customizable and adaptable to business needs
Your business does not need to conform to Odoo's processes. One of the unwritten fears of the workforce is having to change their processes to accommodate a new system, but you don't have to worry about that with Odoo.
For Odoo partners like Port Cities, we take time to understand your business processes and demands, and then we help customise Odoo to fit your needs. While Odoo is adaptable, changes are sometimes necessary when switching to digital process management. Our experts can also give you advice and train your users on how to transition from manual to digital processes in the smoothest way.
Odoo takes advantage of mobility and the cloud
Gone are the days when software implementation required expensive on-premise hosting infrastructure. An Odoo implementation does not necessarily require on-premise implementation, but you can go ahead if you have the need and budget for it.
The cloud hosting option, though, is more affordable and flexible. Odoo is also available on all types of devices and operating systems, so marketing executives and sales associates, for instance, can update information in real-time from anywhere.
Integration with 3rd-party applications
Odoo is encompassing software, but part of its customisable attribute allows integration with third-party applications. So, say you use another software for a particular process, you can install the Odoo integration and quickly establish data sharing between the two apps in real-time.
However, integration is not always easy, especially if you need an integration that doesn't exist yet. But that is where our expertise comes in. We build on-demand integrations for businesses. 
Odoo does improve workplace productivity? Which applications should businesses look out for?
22 Odoo Tools to Improve Workplace Productivity


We can agree that technology has revolutionised how we live and work. Hence, if workplace productivity will be improved, then the right tools must be chosen for the work. And that is the reason for this piece.
Here is a video where the Odoo team discusses which apps drive workplace productivity:
After we have examined how Odoo helps improve productivity in the workplace, it's time to discuss the tools that help get the job done and how you can benefit your business. 
1. Marketing
The famous Australian-American management consultant, author and educator, Peter Drucker, infamously said, "Business has only two basic functions – marketing and innovation."
That quote, without a doubt, highlights the importance of marketing, and the team at Odoo rightly agrees. The marketing tool on Odoo improves customer engagement, increases revenue and ultimately drives workplace productivity.
But how does the tool do all of that? Let's check out the Odoo apps here.
    a. Social Marketing
There is no point explaining the importance of being active and connected on social media these days. Your customers and prospects are there all day long, and it is your responsibility to connect with them, entice them and keep them updated on your products/services if you want to stay in business.
Having understood that, if your marketing team will work with all they have got with their productivity hitting the roof, then they must have access to a tool that lets them plan, monitor, and analyse all social media accounts from one place. That is the exact purpose of the Odoo Social Marketing app.

Whether you want to send automated messages to your website visitors through live chat, post a new update or manage social media accounts, this is the tool. Odoo Social Marketing application users don't need to check their different accounts on social media platforms anymore. This tool integrates all accounts on a single dashboard so you can manage all of them at once.
    b. Email Marketing
Odoo email marketing takes email marketing to a whole new level. You can design email campaigns from scratch or choose from the pre-designed templates, segment your database, track links, calculate ROI, etc.
The email marketing app can be integrated with other Odoo apps like CRM, Marketing Automation, Events, and Surveys for you to execute a complete marketing cycle in one place – most of which we will discuss later in this article.
    c. SMS Marketing
If your team is impressed by the Email Marketing app, then they will be glad to know that the SMS Marketing app is better. Do you have an upcoming event and need to remind your attendees? Use the SMS Marketing app, which, when integrated with the Odoo Contact app, can easily send bulk SMS to your list.
You can also segment your messaging list, track your messages to know who opened the message and when, and schedule the follow-up message while Odoo does all the hard work.
    d. Marketing Automation
Odoo Marketing Automation lets you put your business on autopilot. You can create an automated and efficient lead management system that enables an integrated approach to generating, nurturing and converting leads into customers.
Like many Odoo apps, the Marketing Automation can be integrated with other Odoo apps like Website, Email Marketing, Events, and CRM to aid maximum results.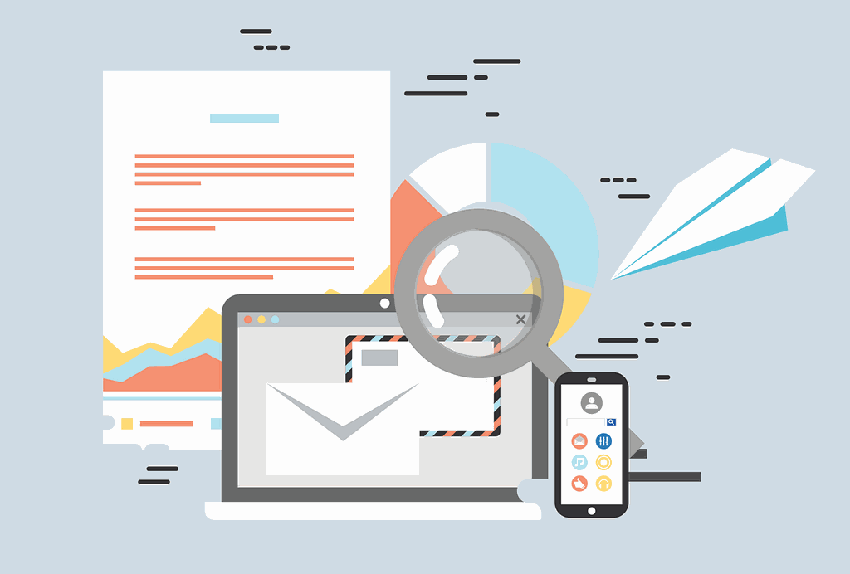 2. Communication
Effective communication helps team members understand clearly what is expected of them and thereby act accordingly. This then improves accountability, which leads to increased productivity in the workplace.
So, what are the Odoo apps that aid communication in the workplace? Let us find out.
     a. Discuss
Odoo Discuss is a powerful communication tool that lets you interact with colleagues across your organisation. You can create new channels, join old ones, create private groups or be invited to old ones.
You can also chat live from any device, choose how you want notifications to be handled, schedule activities, add followers to tasks, send messages and notifications, and chat from one screen.
    b. Timesheet
Timesheet is another app in Odoo's productivity arsenal to track your time. If you want to get things done as fast as you think, this is the app for it. Workers, accountants, and supervisors don't have to manually track working hours as Timesheet is connected to other Odoo Apps such as Projects and Accounting to aid payroll calculation.
You can also use Timesheet on any device, anywhere globally, and even if you are offline.
    c. Notes
Odoo Notes helps you build your to-do list and collaborate with coworkers. Create notes for your projects and move them across stages as your projects progress.
You can also organise the notes, insert text layout, colour, attach files, and import and export documents. Finally, invite others to contribute to your notes or send them a link, chat with people following your notes, etc. Remember, all of these are within a single platform.
    d. Surveys
You no longer have to worry about the right platform to get feedback. Odoo Surveys allows you to easily create appealing online surveys, collect data, share it, and analyse answers to strengthen business strategy and improve performance.
3. Employee Engagement
Engaged employees perform better than other employees irrespective of company size, industry, nationality, or economy. While that is true, many have defined the term in various ways.
But what is employee engagement other than the fact that people want to work where they understand their duties and are aware of how their work contributes to the organisation's success?
Odoo helps to drive employee engagement with the tools we will discuss now.
    a. Employee
Odoo Employee is an all-in-one application for employee management. With it, businesses of all kinds and sizes efficiently manage employees, track time and attendance, get expenses approved fast, thoroughly evaluate employees, recruit the best minds, and much more.
The app fully integrates with other Human Resources Management apps like Recruitment, Appraisals, Time-Off, and Expenses to boost employee engagement.




    b. Documents
You and, by extension, your employees don't want to spend the whole day recording bills, scanning contracts, and approving documents when you can go paperless and save hours.
Odoo Documents makes it easy to share, send, categorise, and archive scanned documents. Businesses also use it to generate documents like vendor bills, tasks, and product sheets.
You can assign documents to vendors or colleagues, have them sign the necessary areas and get business moving without breaking a sweat.
Odoo Document is integrated with other Odoo apps such as PLM, Sign, Accounting, and Project.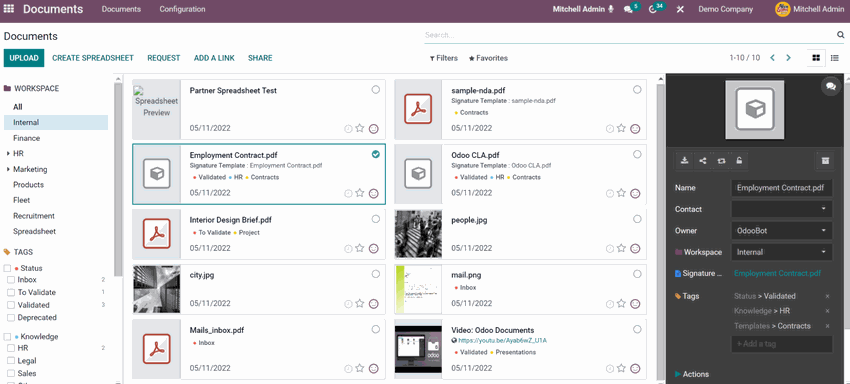 c. Planning
Odoo Planning lets you create and manage shifts, assign them to employees, create reports, display them on bar charts or pie charts, and export them. Employees can also un-assign themselves from their shifts, assign themselves to open shifts and manage their schedules.
With Odoo Planning, no one is left guessing what they should be doing.
    d. Dashboards
Odoo dashboards lets you have all the modules you regularly use on a single screen. Say you want to see which of your colleagues or employees are available or away each time you work; you add the Employee app to the Dashboards.
To do that, go to an app or module like Employee. Click the Favourite button at the top of your screen. Next, click, 'add to my dashboard,' and that's it.
You can add as many Odoo apps as installed on your Odoo to the Dashboards.
    e. Referrals
You can use Odoo Referrals to boost your recruitment processes and reward your employees simultaneously. When you have a vacant job role, tell your employees about it and let them share with their friends who may be a good fit.
Aside from sharing the link, they can also use the Refer Friend on Odoo to email their friend about the role. Depending on your budget, employees may get points each time their referred friends move up in the recruitment process, and then the highest point goes to the one whose friend got hired.
In the end, you reward your employees even if their friends weren't hired, and you have a new hire who is happy to get started with an exciting team.
4. Customer Relationship Management
A good customer relationship management system standardises and effectively tracks sales progress and productivity. Let's examine Odoo apps in this category.
    a. CRM
Your team's tools will take them from good to great. Odoo CRM is a great tool to organise sales activities, automate tasks, and empower the team with customer data. Identifying opportunities with their stage in the pipeline is a simple drag and drop.
This video explains further how your team can benefit from CRM.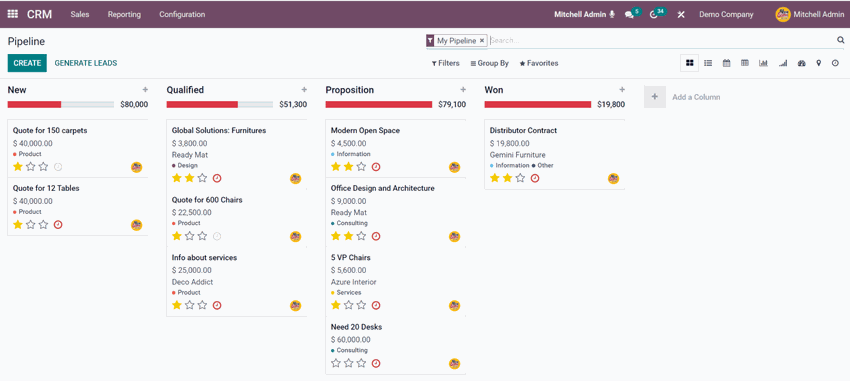 b. Inventory
Odoo Inventory makes it possible to track all stock moves anywhere in your supply chain. Whether you are operating in the manufacturing or retail industry, Inventory is the tool to improve performance and process time with its double-entry inventory system.
Even if you have multi-warehouses, use cross-docking or dropshipping, Odoo Inventory and other integrated Odoo apps like Accounting, Purchase, Procurement, and Sales give you access to cutting-edge automation and advanced tool to increase customer satisfaction. It will also help improve the effectiveness of your supply chain and demand forecasting.
    c. Point of Sale (POS)
An effective POS system provides quick and convenient services to your customers to seamlessly pay for goods and services. Odoo POS is a unique app based on an intelligent interface yet is easy to use.
It is compatible with any device and operating system and reliable when the internet connection is lost. What's more? You can use it to reward your loyal customers with gifts, points or discounts and keep track of their buying habits.
Odoo POS is a tool to help businesses drive customer relationships, as 3Sach Food, Port Cities' retailer-client, has found out.
    d. Subscription
Another Odoo tool to build customer relationships is Subscription. With it, businesses can manage recurring bills and subscribers easily.
Odoo Subscription saves time by automating recurring payments and increases sales by getting rid of login requirements from customers, all while helping transform happy visitors into satisfied customers.
    e. Sales
Odoo Sales help businesses fast track payments and maximise profits by upselling. Here is how it works:
Choose from a list of quotation templates.

Edit to your needs and send to clients.

Clients review and sign from any device

Close the deal and get paid
With Odoo Sales, you can also upsell to customers with triggers, discounts, and coupons. Sales is fully integrated with other Odoo apps such as CRM, Sign, Accounting, and Website Builder.
5. Extras
Truth? We cannot exhaust all Odoo apps and how they improve workplace productivity in one blog article even if we try. So we won't.
But here is what we will do. Let's check a few more apps. Does that make sense? Right!
    a. Approvals
There will always be the need for approvals. A team member wants a contract approved by their manager, another wants a payment application approval, and yet another requires a business trip approved just in time to book tickets. You need an app to get all of these in order and not mess up other duties.
Welcome, Odoo Approvals. You can easily manage all employees' requests, choose who can approve a request, create different types of approval, and more within a single platform.
If you are a large enterprise with 500+ employees, you will like eApproval better; Port Cities' solution to manage employees' requests easily, even in a complex organisational structure.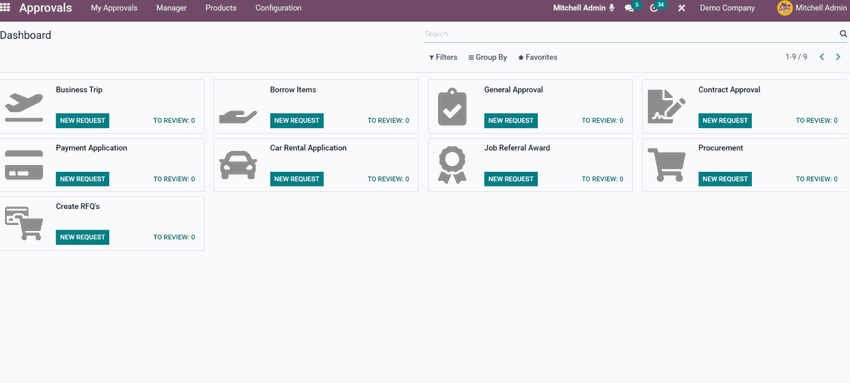 b. Project
This is agile project management at its core. Odoo Project helps managers schedule teams across projects, keep track of deadlines, and generate dynamic reports.
Team members can also add notes and attach files to each task within a project, so everyone is kept up-to-date.
     c. VoIP
Odoo VoIP makes it easy to make calls with anyone anywhere on Odoo. Users can choose whatever device – personal computer, smartphone, tablet, or VoIP phone – to make calls anywhere.
While on the call, you can also perform supportive tasks like opening a ticket or customer contact form or scheduling an activity. The detailed reporting feature allows you to keep track - filter, search, and export - of all calls.
    d. Helpdesk


Odoo believes that excellent employees deserve fantastic software. And that truth is rooted in the Odoo Helpdesk application.
With Odoo Helpdesk, users can track and solve all customer tickets with the added ability to organise the view to their preferred view and an instant overview of their team's workload.
You can also use Odoo Helpdesk to keep in touch with your customer across different media like email, website form and live chat. The goal here is to allow your team to reduce the chance for error, focus on other things that need their attention, and ultimately improve productivity.
Conclusion
To improve workplace productivity means your people – all stakeholders – are energised to do their work in a conducive environment with access to tools without unnecessarily disrupting their processes.
So whether they are junior employees, managers, directors, or customers, the Odoo tools we have discussed in this piece will help them carry out their tasks effectively. And when people can get work done in the most reasonable way possible, you can expect their productivity level to remain high.
Odoo also satisfies the saying that people are the most important asset any business can have. Its centralised nature and seamless third-party app integrations enable organisations to cater to all stakeholders' specific needs.
The whole essence of Odoo, then, is to help your organisation work smarter. So, when in doubt about how you can use Odoo to improve your team's efficiency, don't hesitate to reach out to our team.