Retailers all over the world have been suffering from the impact of the COVID-19 pandemic with the decrease in revenue and the closure of stores. In the situation that consumers tend to ease their shopping habits in physical stores during COVID-19, online shopping is considered an effective choice. Moving your business into a digital environment, not only stores but also any kind of business seems to be promoted to adapt.
This article is not only written for those who are currently running a store selling essential goods, but also for anyone who is going to set up a store selling that kind of product. The movement from physical stores to online stores is a big change. But it is the future of your business.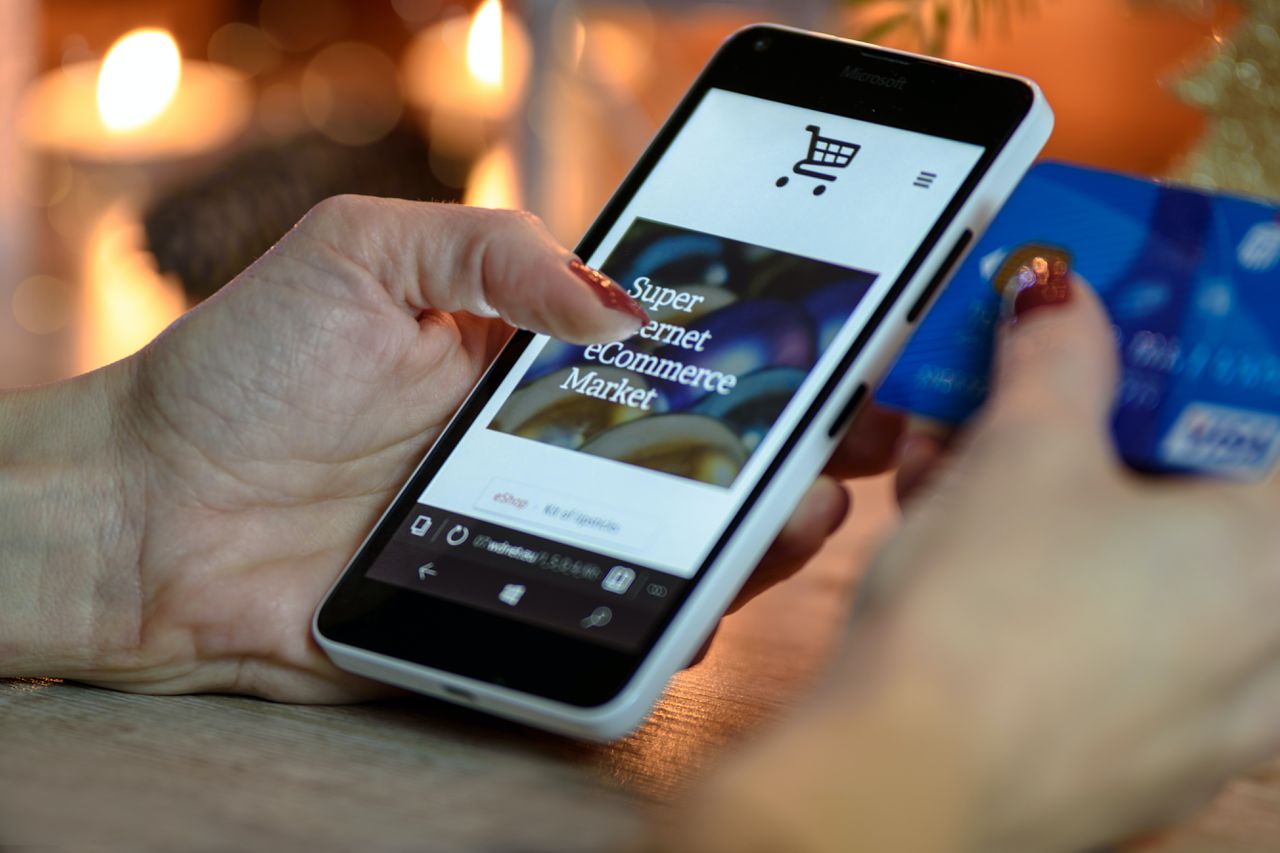 The obstacles for traditional retailers to build an eCommerce platform
When you want to enter the online retail industry, you need to know about the basic concept to set up an online store. Nothing is going right for the first time, but you need to get over the obstacles to build that product. The typical problems are in this following section:
Lack of experience in setting up the flow
Having a deep understanding of eCommerce flow can help you generate more and more sales opportunities & also keep your operating cost-competitive. Mapping your business flow can also help you to highlight the key areas that require automation or modification. An eCommerce process flow can often be an area of online retail that is overlooked. There are 4 main flows in the online retail system:
Product flow: This flow is about the movements of goods and services from the suppliers to the customers. Essential goods should be delivered at the right time at the right place in the right condition.

Cash flow: When your customers make a purchase, they pay for it. The cash flow is the movement of money back from customers to suppliers. This happens in many areas. Your consumers can choose COD (Cash on Delivery) to make sure they receive the package, or they can pay by Credit/Debit cards so suppliers can have their money immediately. There are many other ways to pay online like bank transfer, E-Gift Voucher, and e-wallets.

Information flow: This information flow happens in both directions: customers & retailers. This flow of information is necessary for the proper functioning of all the activities in an eCommerce model. Customers ask for information and likewise, the retailer also requires information from the customer. Since the process is online, this flow is important for a smooth transaction and seamless working of the stores.

Reverse product flow: This flow refers to the product return which has to be picked from the customer and returned to the retailer through the eCommerce platform. If any customer is not satisfied with the product or even finds it in a damaged/defective condition, the customer can conveniently initiate the return online and ask for replacement or exchange or refund as per the policies of the eCommerce player which varies from product to product.
The wrong choice of system
Selecting eCommerce systems can be a tricky choice. In case you do not have experience with online shopping systems, this can take your time.
Choosing the wrong system can lead to a range of issues like revenue loss, lower conversions, traffic reduction, security issues, poor design, and much more. These critical mistakes could mean having to invest even more time, money, and energy into updating your platform or migrating to a different one altogether.
There are a variety of eCommerce platforms available in the market now and we encourage you to make a comprehensive research for those platforms. Some systems can not do the whole flow of online sales, inventory, or payment integration. Make sure you take your time while choosing the right eCommerce platform for your online business. You can check the comparison of Odoo with other eCommerce platforms to have further information.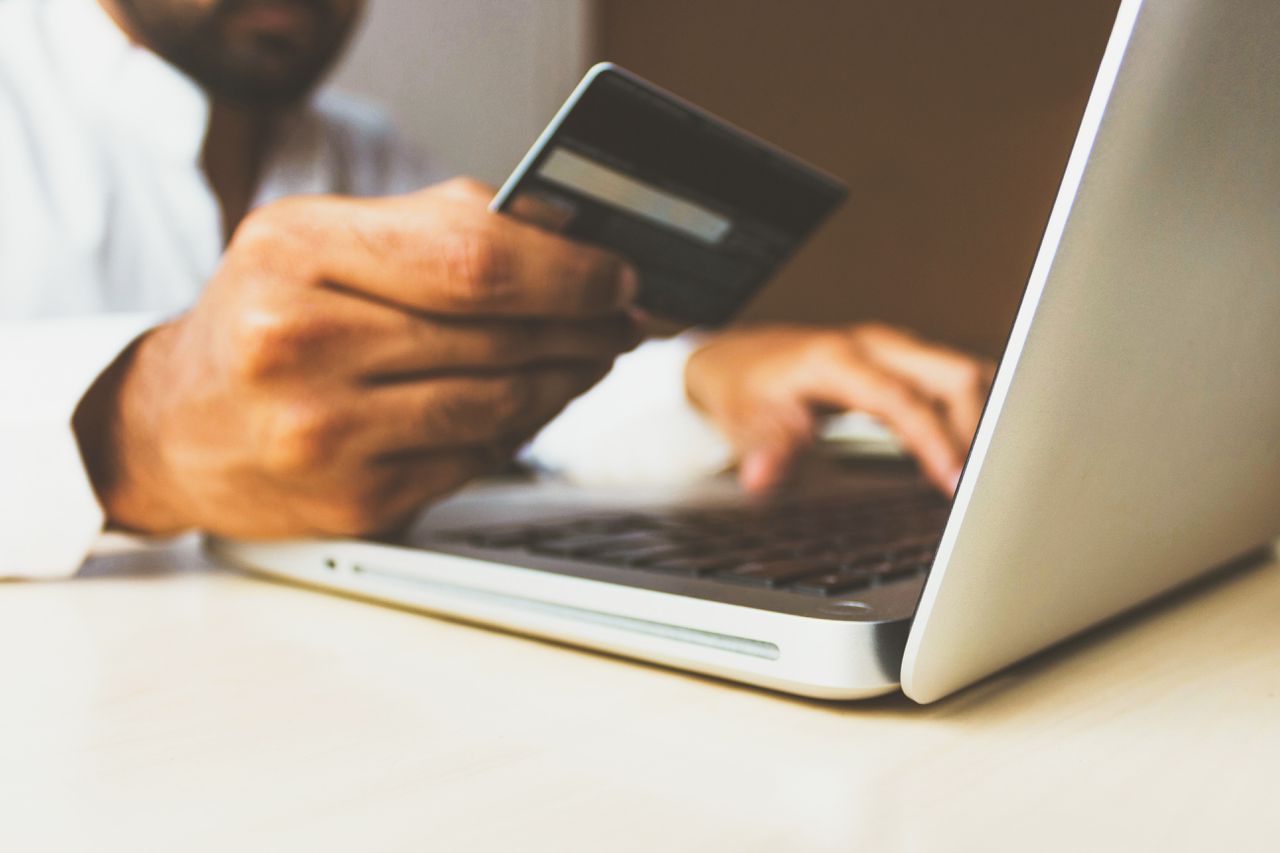 Lack of knowledge about the usage of data collected in your e-shop
A lot of businesses forget about collecting the data & their analysis, even though it is a very powerful way to get information. Whatever you are selling, you need to be collecting better information about the customers so you can make your business better. Collecting the customer's data helps the company enhance customers' experience, make them satisfied, and increase the company's revenue.
Data analysis is one of the must-have skills you need to improve if you want to run an e-shop effectively. With the data collected, you can:
Send emails for informing the customized discounts and special offers to re-engage your customers.

Give personalized shopping recommendations to your customers, which can save their time to get closer to your favorite products.

Develop flexible or dynamic pricing, which relies on external factors such as consumer demand and competitors' pricing. A 1% increase in price translates to an 8.7% increase in profits. For example, Walmart - a big retail brand in America uses online shopping big data to determine patterns that point to higher profits. A product sold on its own may not make as much profit compared to pairing it with something else.

You can use the data stored in your platform to present targeted ads, as different customers want different/relevant messaging. You may already be using some form of big data by presenting targeted ads on your social media networks.
How to start with an E-commerce platform for your business?
The future of eCommerce businesses is bright. In the pandemic, we can feel the necessity of this model. Because of the enforcement of social distancing, lockdowns, and other measurements to get a response to COVID-19, people ramp up online shopping for their demanded products, social media use for keeping in touch & internet telephony and teleconferencing for their works. Your business should be on the balance between the physical & digital models to keep the operation going on. Before you have any preparation for your online store set up, make sure you have these considerations:
Write down your needs
Online behavior happens in a digital environment. That means you should identify the following requires:

What should be the journey of the customer on your website? Mapping of customers' journeys can be a challenge for any eCommerce business. You may wonder why customers spend too much time browsing your selection and adding products to their carts. Or why your platform requires customers to go through several steps to get from Point A to Point B when it should only take one. Take those things seriously, by analyzing the data, so you can know exactly how customers feel happy with your products and services.

What are your payment methods? Customers are familiar with using multiple options to pay for our essential products at online stores. Choosing among payment terms offered will be the final step to finish their order session, and your store should let them flexibly pay for the goods. When setting up an online payment method for e-commerce websites, finding out which types of payment methods to use is essential for your business. Customers usually prefer using many types of payment methods such as credit cards, bank transfers, to make it easier for them to buy anything from your store.

What are your delivery methods? Customers have a lot of choices to receive their products by buying online. And if your business can not offer a variety of shipping options, it could be missing out on a lot of potential customers. Online store owners often use third-party delivery services to help them bring products to customers. Delivery time is a competitive factor for online businesses to make customers more satisfied with service, you can offer same-day delivery if you can make sure to deliver on time.

Which policies do you offer? Create helpful policies to gain the trust of your customers when they shop at your store. With the return policy, this needs to be clear, detailed, and practical so that if you apply this policy for any returning cases, your customers can easily find what you need them to do, as well as criteria for a return to be accepted. Customers also appreciate which stores offering the privacy policy to make them feel safe with their personal information stored in your system.
Make sure your online shop is integrated with your inventory
Inventory management has played an important role in setting up your online store. As a seller, you absolutely need to update your stock in order to let your customers know its status. Keeping inventory in stock proves important because you can lose customers — sometimes forever — if you don't fulfill their orders at the expected time. People will be disappointed if they see "Out of stock" notification continuously on your website, or if that product is written as available on the website, your customer's order & pay for it, and finally, you call them and apologize for not having enough stock for those orders. Or even worse, people ordered and paid for the products, but they can not receive the goods in a timely manner.
You can find the best players in this industry, such as Amazon, Tiki, Shopee, or Thegioididong, they have been doing their job very well to bring the best products to their customers. Look at their website, consumers can easily find their products and get them instantly.
Plan a strategy to make sure customers return to your platform
How can your store get customers to return?
Of course, you can easily think about spending money on ads, but it's not enough. Customers will appreciate the stores which improve their experience. You can continue to hone and improve your offerings - and remember to articulate to existing customers what's new. Changes and updates are more reasons to interact with your client base. Communication with your customers is an important part of your business, and it should target the right customers. Try using a good email marketing campaign and send warm-welcome notifications to consumers so everyone can know who you are.
When you decide to buy something at your favorite store, both physical and digital, have you ever thought about the reasons why you come to buy at that store? You want to buy a product not only just for your demand, but also for your happiness, and you return to that store to make yourself feel better. Customer experience is the back-bone connection to ensure your beloved customer enjoys shopping at your stores. Your products are available when they're looking for them, and how you sell those goods will decide whether they return to your store.
How to Set-up an eCommerce store in Odoo?


Odoo eCommerce modules
Odoo is an open-source platform that helps businesses and organizations streamline their processes. It is a great eCommerce website builder with a quick set up and fully integrated with other Odoo apps. These 3 Odoo modules often come together to help you build an online store:
Website: You can build a stunning website without coding skills, just drag & drop the building blocks you want to use, change texts & pictures.

E-commerce: Let you customize your product page in the way you want. With Odoo eCommerce, you can effortlessly create custom designs for product pages to showcase your business uniquely, and also add product attributes such as color, size, or style to keep product lines easy to navigate.

Inventory: Manage your stock efficiently to improve your internal operations. It has a simple transfer interface to move products from one location to another. And the Inventory module also shows stock on the website so consumers can check if their products are available to be delivered now.

Invoicing: Invoice module is integrated with the eCommerce platform in order to control & accept payments.


Guide to set up an eCommerce store in Odoo
1. Set up several payment methods
Consumers prefer to have a choice, and payment options are not an exception. Accommodating your customers' preferences in this way will be attractive for new clients and ensure you with more purchase orders.
Here are the steps to set up payment methods in Odoo eCommerce:
Firstly, you go to the Website -> Payment Acquirers: Odoo allows a lot of payment options such as Stripe, Paypal, Buckaroo, COD. To install, configure, or activate the payment methods, you click on the INSTALL, CONFIGURE, or ACTIVATE.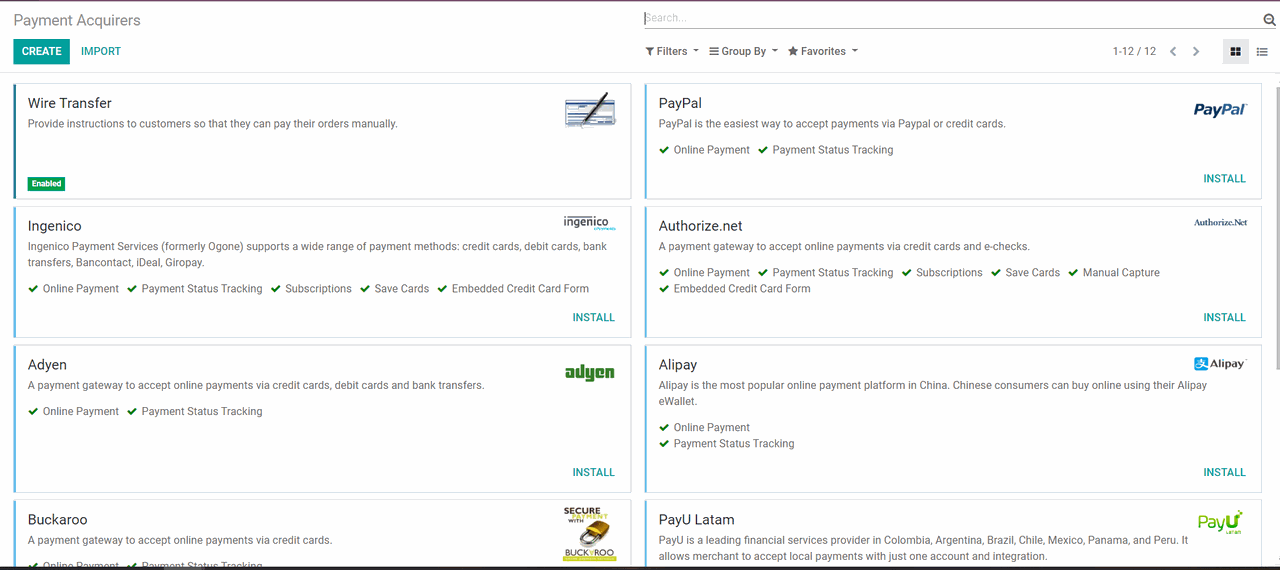 Then, you add the Credential, Messages & Configuration information:
In messages, you can adjust your thank you, pending, done, cancel, and error message to improve the customer experience.
In Configuration, you choose:

Payment Journal: You can choose among the types: Cash, Bank, Purchase & Sales. 

Supported payment: You can choose among the popular supported payment platforms like VISA, MASTERCARD, JCB, American Express,...

Payment flow: You can choose Redirection to the acquirer website or Payment from Odoo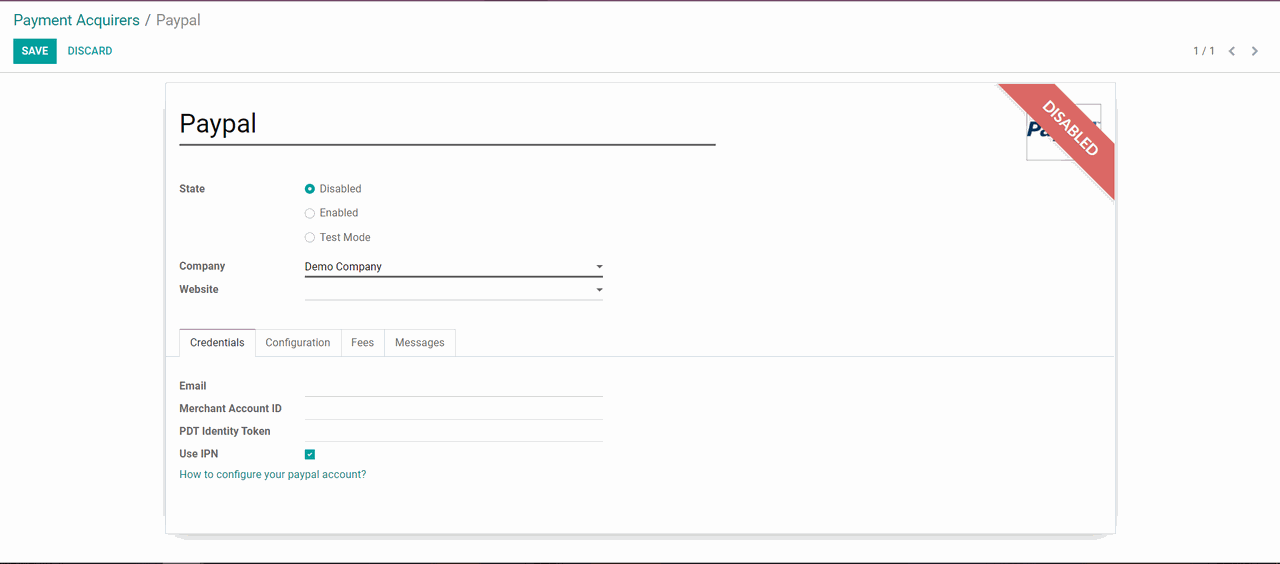 After setting everything up, you click the test environment of the top right corner. If everything goes well, you click to Publish. Of course, Odoo can be integrated with multiple payment gateways, even local ones in Indonesia, Malaysia, Vietnam, Australia, Singapore & Mexico.
2. Set up delivery methods
In Odoo, delivery methods allow you to easily calculate the shipping cost based on the address of the customer.
Configure the delivery method
First, Go to the Inventory module, click on Configuration -> Delivery Methods.
Create a new delivery method. You can name it after the service provider, or based on how long the delivery takes,... And then in the pricing settings, there are 2 options:
If the price is fixed, tick Fixed price. You'll just have to define the price. If you want the delivery to be free above a certain amount, tick the option Free if Order total is more than and set a price.

If the price varies according to rules, tick Based on Rules. Click on add an item to a pricing rule. Choose a condition based on either the weight, the volume, the price, or the quantity.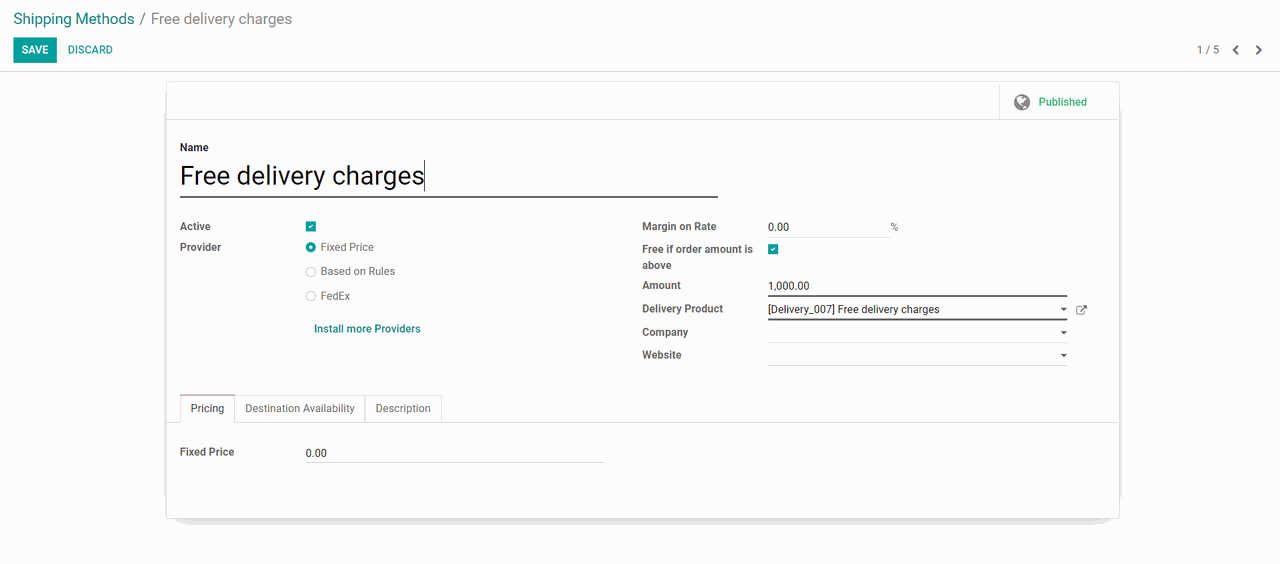 Fill the delivery product, company & website information.
Finally, you move to the destination availability tab to limit the delivery method to a few destinations. The limit can be applied to some countries, states, or even zip codes. This feature limits the list of countries on your e-commerce.
3. Create your products
In the eCommerce Dashboard, choose the tab Products -> Choose New and fill the Name of the product and the product image when clicking on the camera icon of the top right corner In general information, you provide this information:
Product Type: You will have the options: Storable Product, Consumable & Service. In Odoo, storable products are the ones that can be managed by inventory, consumable products are assumed to have enough stock and have no quantity on hand or forecasted, services are considered as a product but the user can not keep the stock.

Sale price: The base sale price of the product, the product may be different if there are variants available.
After setting product type & sale price, you move to the eCommerce tab and choose the Categories, and then you create a new category for your store to structure your products and also help to improve customer experience by intuitively answering any questions about the location of specific products and services.
In Odoo, to set up eCommerce categories, you go to Configuration -> Ecommerce Categories -> Create New Product Category. In the Alternative product field, you can choose the product which customers can choose if they're looking for another related product.
When you come up with the Product Variant, there are 2 cases for you to consider:
a. If you want to be able to compare the products in the store, you will need the product specifications to be set in and make the product comparison visualized. Fortunately, Odoo has the Product Comparison Tool for accessing the product comparison tool in eCommerce.Here, one can add their product to the compare tool that helps in selecting the best product among the board.
b. If you are selling products that can be customized, the product variants are used to manage products having different variations, like size, color, etc. For example, your customers want to buy a laptop and then select its CPU, RAM, Hard Disk Size & Screen Size - they're called Attributes. And you will have these options:
Screen Sizes: 15 inches or 14 inches

RAM: 4GB or 8GB

Hard Disk Size : 500GB SSD or 1TB SSD

To do this, you go to Product and navigate to the tab Variants. You add a new line and name the Attribute names & values.
So in this part, we created 3 attributes in the systems.
So you can Go To Website and see how they showed in the product page:

4. Set up SMS shipping notification
When your customers finish ordering your product, the platform will send them the notification of the shipping time, by email or SMS. While many people stick on their phones every day, SMS is the best way to inform them their goods are on the way so your customers can stay at home waiting for it.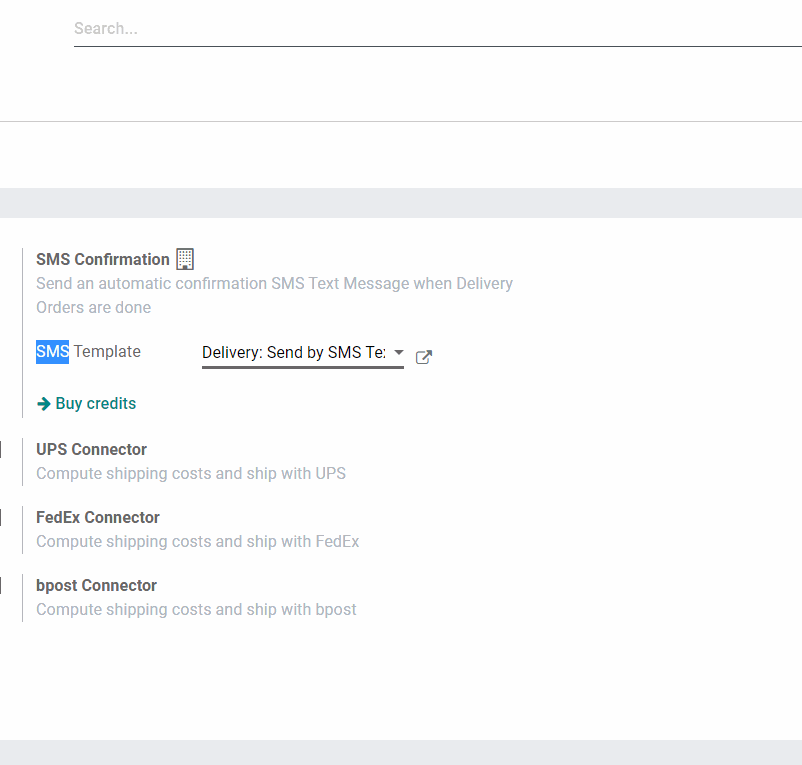 To set up SMS shipping notification, first, you activate the SMS confirmation Feature. To do this, go to the Inventory app Settings and enable the feature.

Make sure you have enough credits in your account. The price of an SMS depends on the destination and the length (number of characters) of the message.
5. Build & design your e-shop
In the Dashboard, you go to Website -> Homepage -> Edit

Choose the block on the left sidebar -> Change the images and content.
You can do the same steps with your Shop page & Product page. Remember to save in every step.
Create a menu navigation bar
To create a menu navigation bar, you click on Pages -> Edit Menu -> Add Menu Item: You can change the order of the pages by dragging them to the desired position.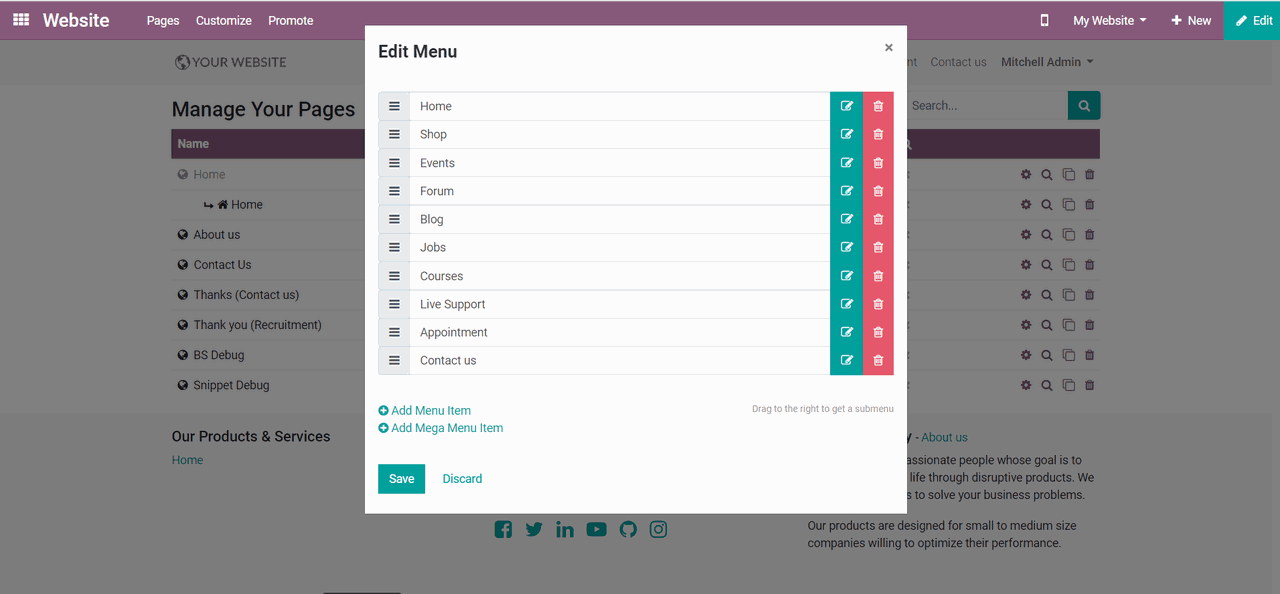 Provide product description
Click on the Product Page -> Fill in the product description. Try to make your product description written like story-telling and make it more attractive so the customers can have enough information to decide to buy the product. Because they can not touch or experience the product, so make sure they will see the value of products.
The last step is clicking on the button publish in the top menu. So your website will be ready!
Final thoughts
Empty grocery shelves, both physical and digital, have become a symbol of how COVID-19 has had far-reaching impacts on communities and supply chains around the globe. Goods that once seemed abundant – toilet paper, cleaning supplies, water, milk, meat, medicaments, face masks – quickly became difficult to find. After this pandemic completely stops, the retailers need time to recover from the big loss.
The optimistic sign from online business can be a clue for traditional stores to move to the online environment. If you want to have more information about the digital transformation in the retail business, feel free to contact our consultants & discuss with them, what steps can you take to jump into the online sales.