Odoo Sales & CRM by

Portcities
Drive your sales team performance

A CRM and omni-channel Sales software designed to simplify your sales process and improve customer experience.


End-to-end sales process in one software

Lead Management

Odoo lets the sales team create, track, and manage leads from various channels as well as set stages, add probabilities, expected revenue, and next actions.

Quotations & Sales Order

Odoo simplifies quotation creation with products, prices, taxes, discounts, and terms. Once approved, it can become a sales order and be tracked until delivery.

Invoicing & Payment

Create invoices based on sales orders, delivery orders, or timesheets, track customer payments, and reconcile them with their invoices.

Reporting

Use various reports and dashboards to track the performance of the sales team, including lead conversion rate, pipeline analysis, and revenue analysis.

Empower Your Sales force
Selected Capabilities
Simplified Sales Process

Odoo provides a comprehensive suite of tools to help manage leads, create and send quotations in a few clicks directly from Odoo and track sales orders status in real time.

Online Collaboration

Odoo CRM enables real-time access to customer information, sales data, and reporting, facilitating effective collaboration among sales teams and improving sales performance.

Flexible Invoicing and Payments

Easily create invoices based on your business rules, such as order quantity, shipped quantity, timesheets and more. Use a custom price list per client if needed.

Insightful Reporting and Analytics

Track your performance with a variety of reports and dashboards, including lead conversion rates, pipeline analysis, and revenue analysis.

Better Retail Experience with Odoo Point of Sale

User-Friendly Interface: Intuitive and user-friendly interface makes it easy for employees to use. The interface is designed to be simple and easy to navigate, allowing employees to process transactions quickly and efficiently.
Online and offline: Easily set up new stores with an internet connection and use the Point of Sale anywhere, anytime. The Point of Sale remains operational even after disconnection.
Inventory Management Integration: Manage your inventory, track stock levels, and receive alerts when inventory levels are low.
Accounting Integration: Effortlessly sync your sales data and manage your financial transactions, including invoicing and payments.
Loyalty Programs: Reward your customers for repeat business. Customers can earn points for each purchase they make, and these points can be redeemed for discounts, free products, or other rewards.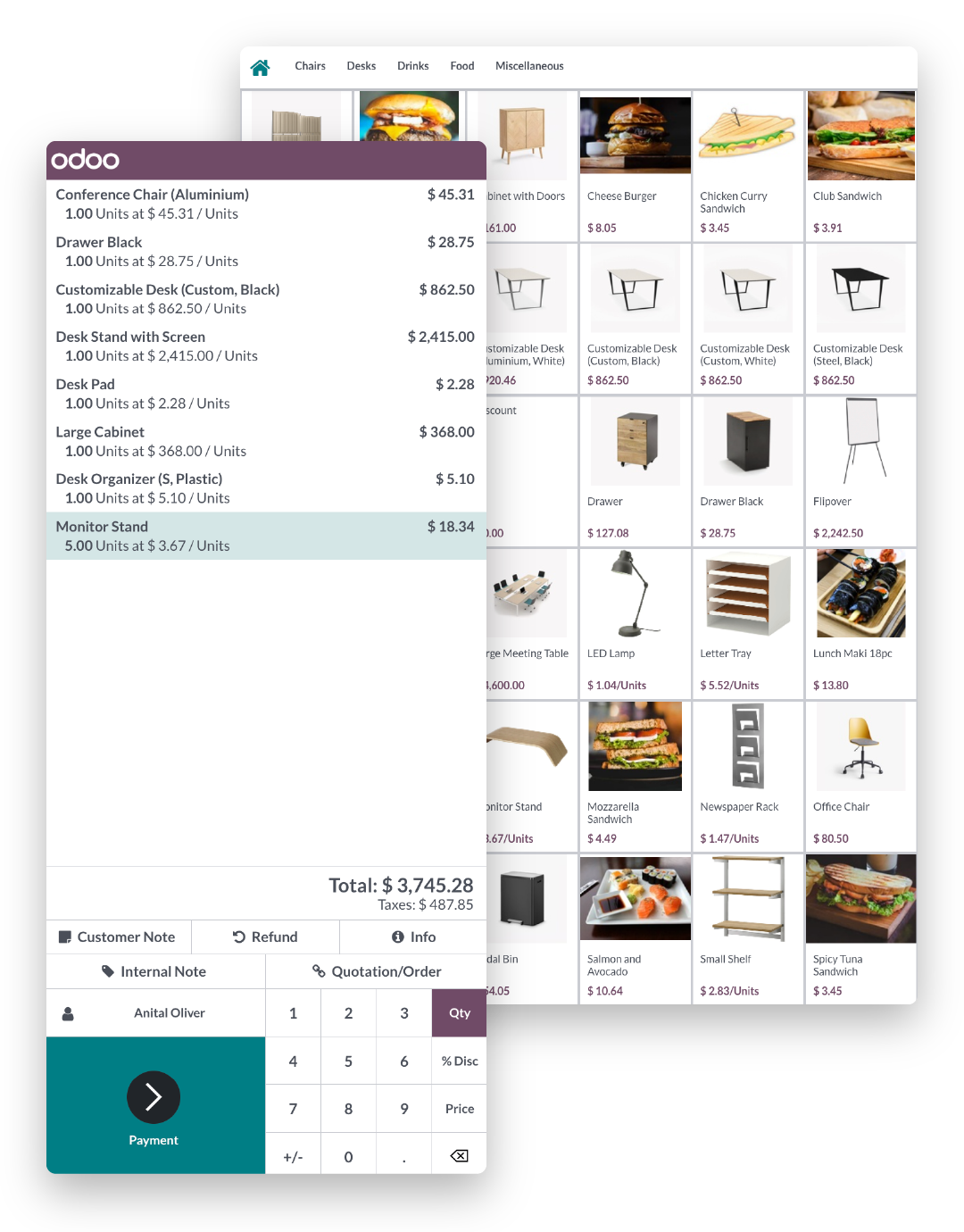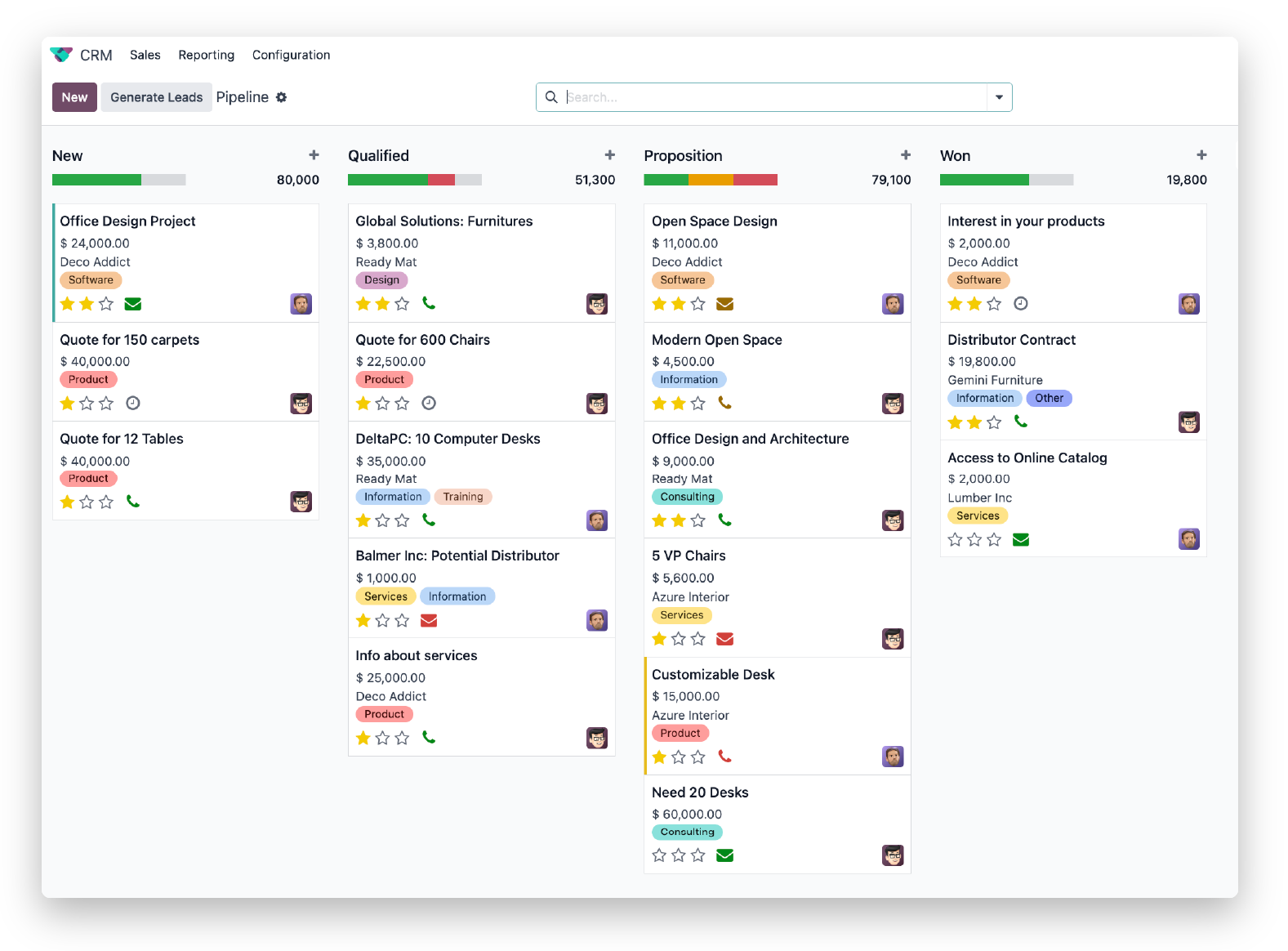 Real-time overview

Keep track of your sales pipeline at a glance
Track your pipeline with customizable stages and detailed lead information for effective sales management and improvement.
Monitor team performance
See how many leads each team member is working on, which stages they are in, and how long it takes them to move leads through the pipeline.
Collaborate more effectively with up-to-date data
Collaborate better with up-to-date information on leads, sales orders, and invoices. Customizable dashboards and reports ensure everyone has the info they need to succeed.

Omnichannel integration


Odoo integrates sales orders, point of sale, and e-commerce into one order management and inventory system. This improves management efficiency and allows for a seamless customer experience.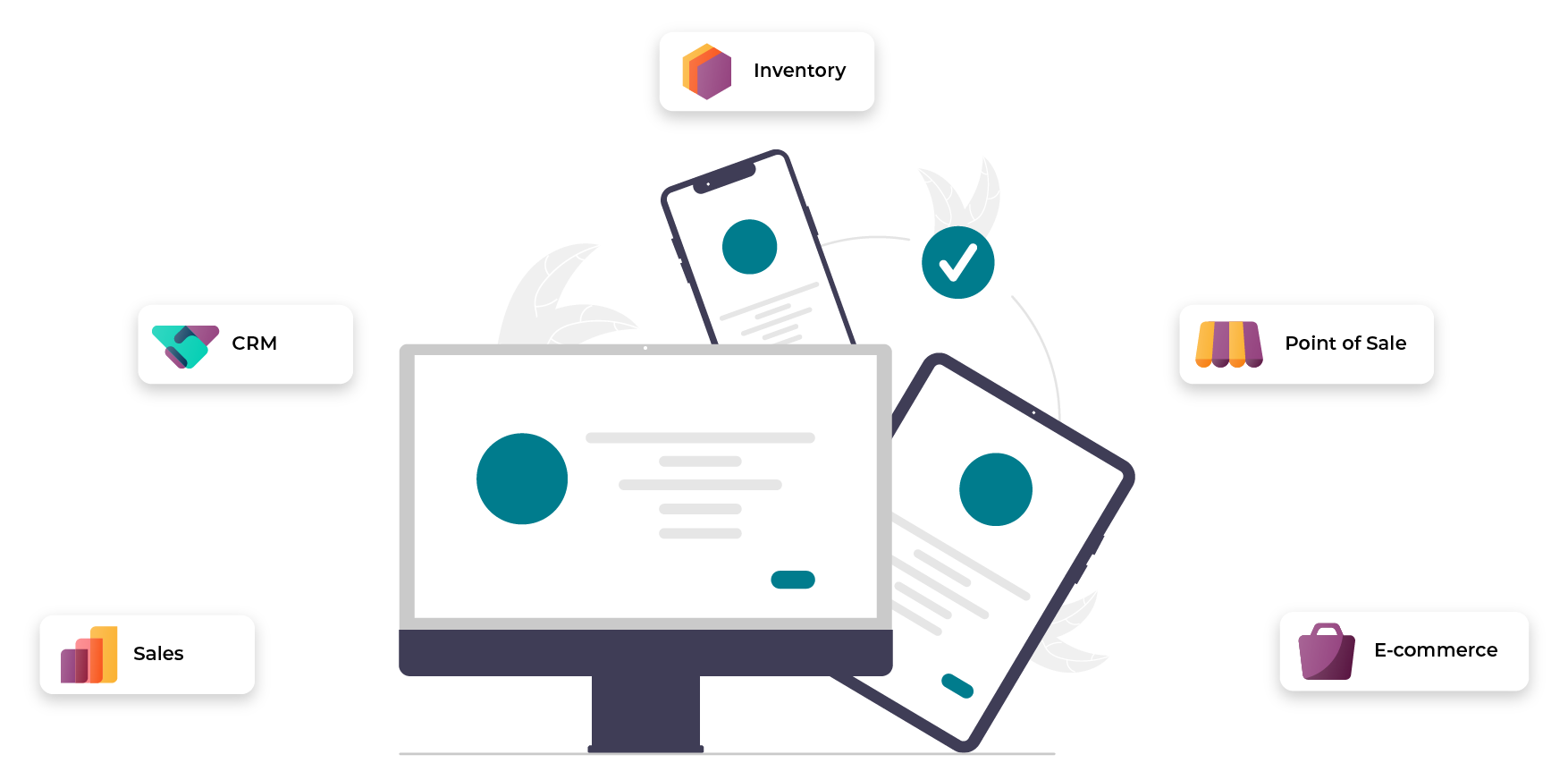 Accurate Forecast
Making Informed Decisions
Accurately predict future sales revenue based on past performance with customizable forecast models that use algorithms to analyze historical data, account for seasonal trends and market changes, and monitor sales performance in real-time. Collaborate with your team to develop tailored sales strategies.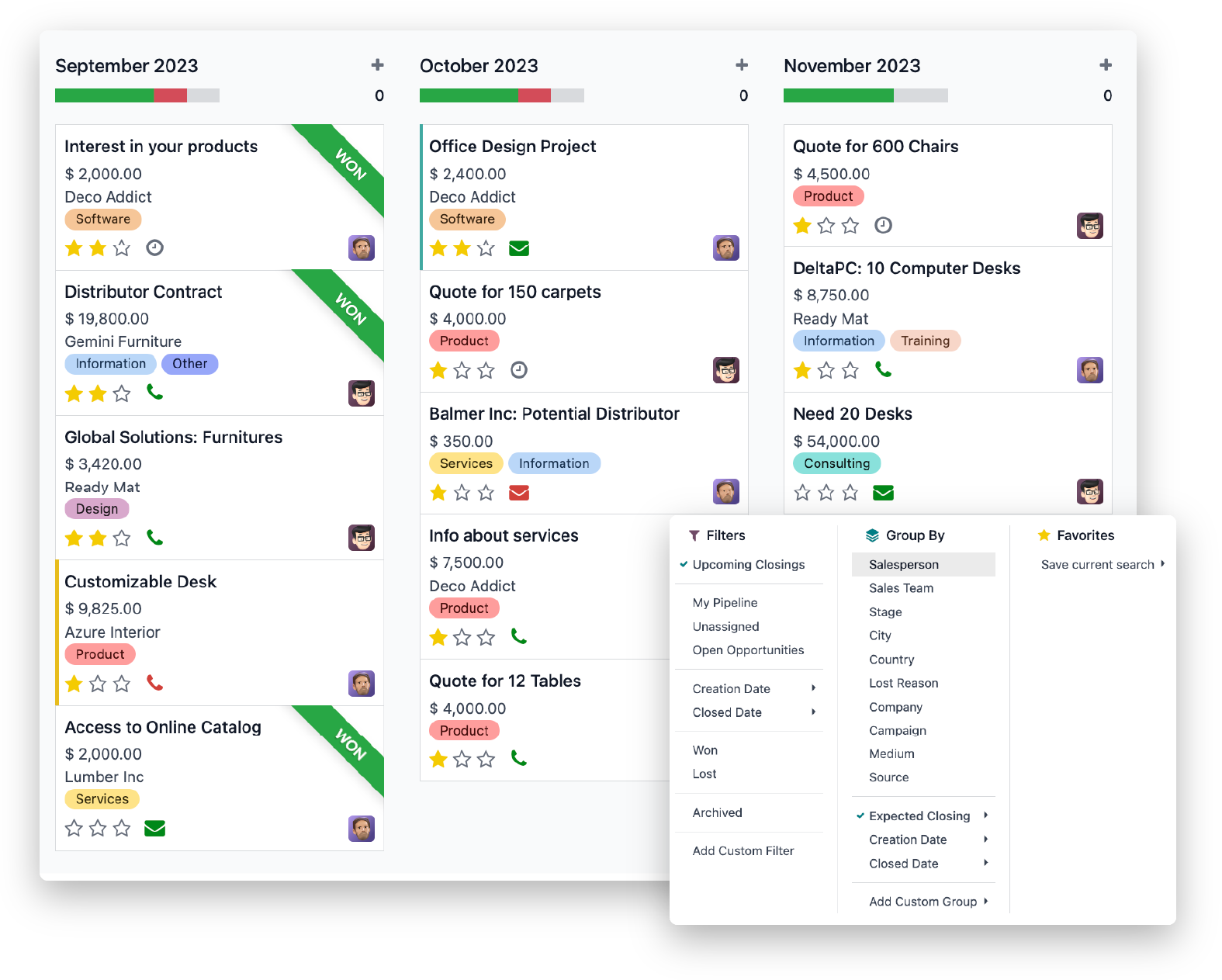 Order & Contract Management




Sales Order Management
Easily create and track sales orders from quotation to delivery, making it easier for sales teams to manage the entire sales process in one place.

Contract Management
Manage service agreements and subscriptions with contract templates, recurring invoicing, and detailed performance reports. Manage contracts for specific customers or groups, and view reports on contract performance.

Customer Portal
Allow customers to access their own information, place orders, and track the status of their orders. Improve customer satisfaction and streamline support processes by integrating the customer portal with the Sales & CRM app.
Quoting for Success
Professional and detailed quotations for your prospects with Odoo.
Add product descriptions, beautiful images, and additional information using the simple drag and drop building blocks feature. Impress your clients with clear and complete proposals that showcase your products and services.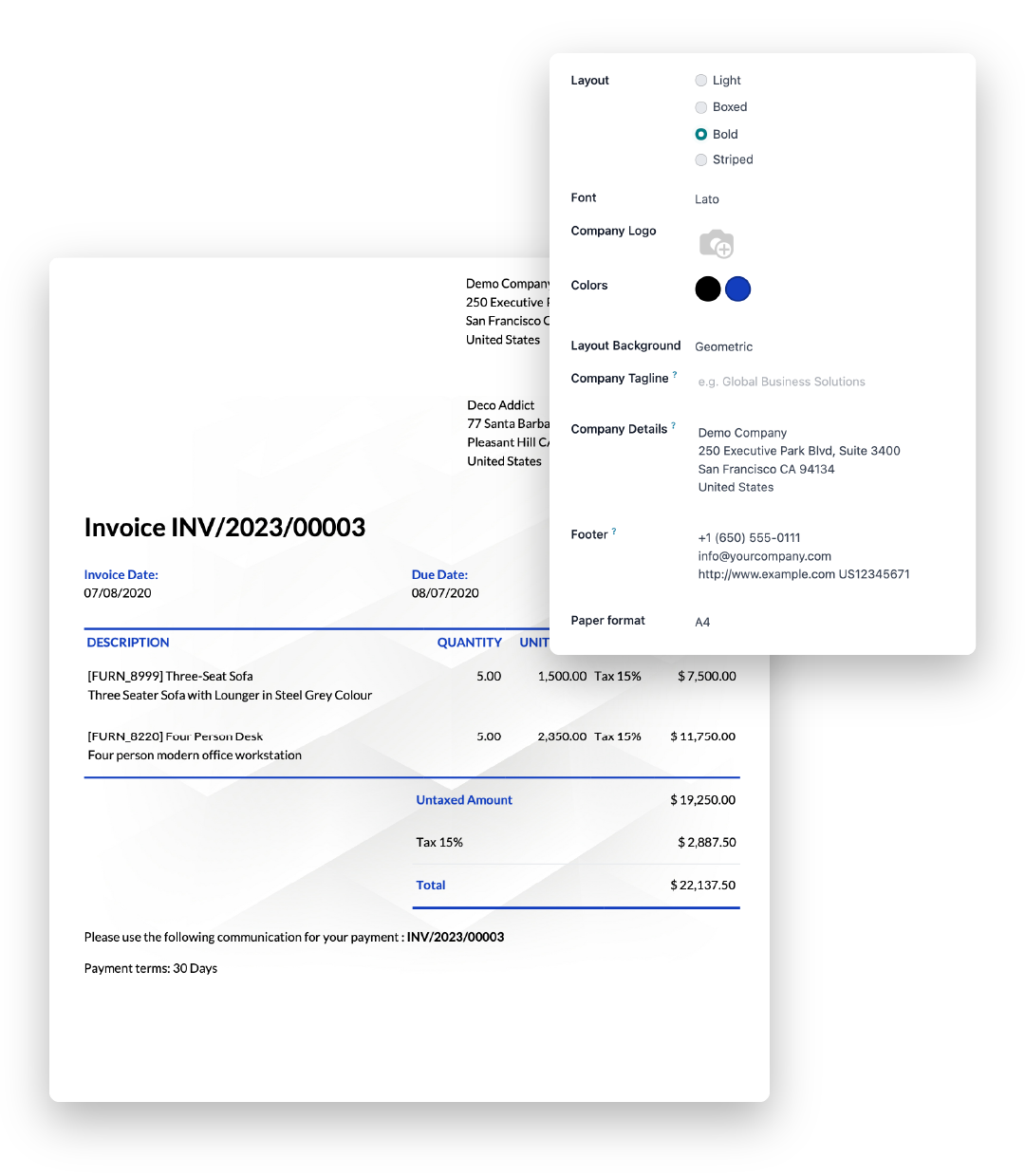 Ready to optimize your sales processes and revolutionize your business with Odoo?
Trusted By

You are in a good company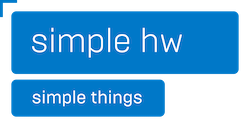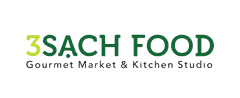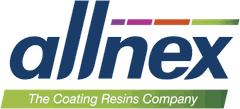 Mastering Clients Management with Odoo CRM

Easily keep track of all your clients interactions and deadlines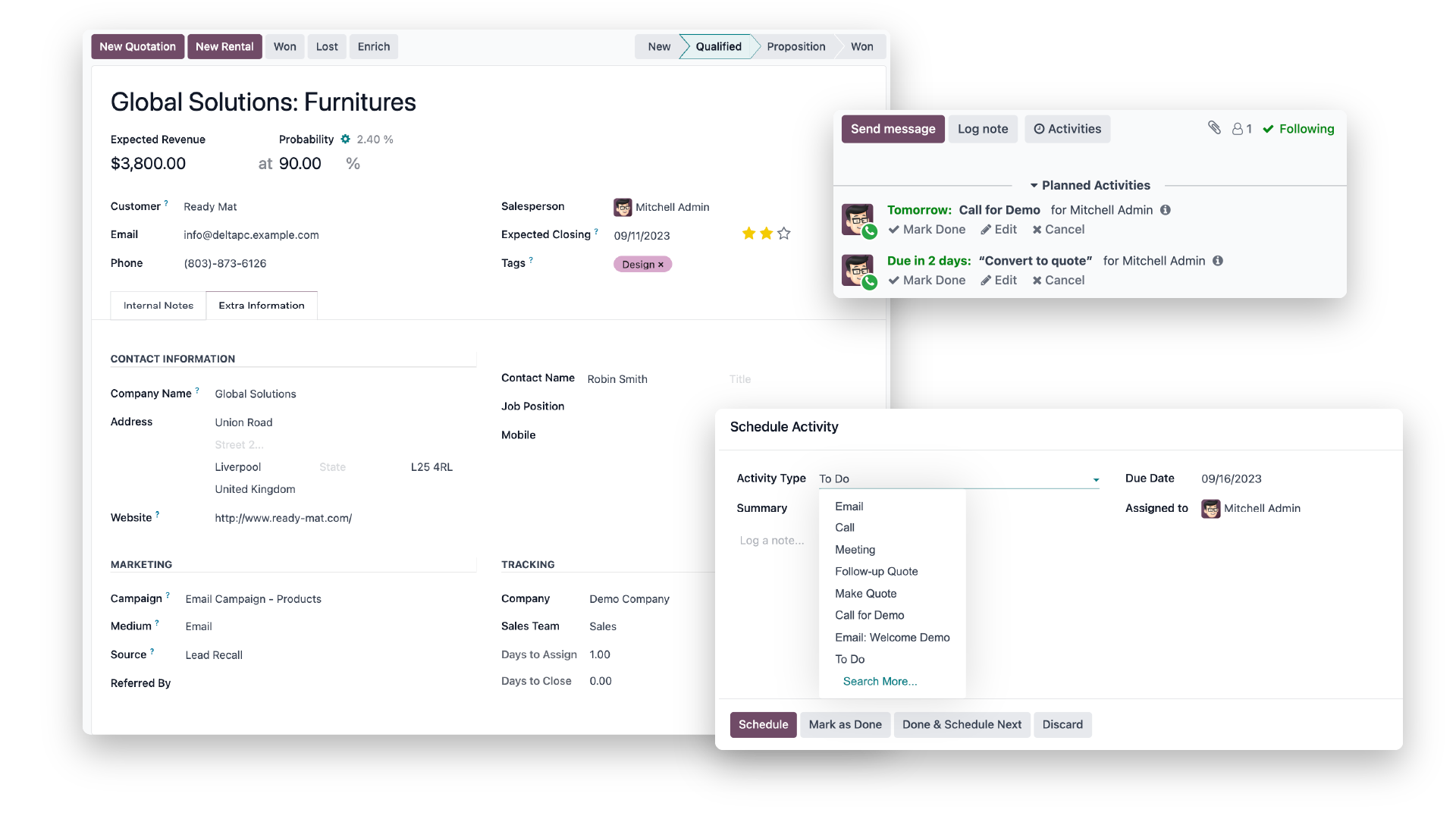 Flexible Activity Types
Create custom activity types to suit your specific needs, such as tasks, calls, emails, meetings, and more. These activities can be assigned to individual team members or to the team as a whole.



Automated Reminders
Set automated reminders for activities to ensures that tasks are completed on tim. Reminders can be sent via email or mobile notification, depending on the user's preferences.



Easy Scheduling
Odoo makes it easy to schedule activities for leads. Users can view their calendar in the CRM interface and drag and drop activities onto specific dates and times.



Activity Logging
Have a comprehensive log of all activities related to a lead, including completed tasks, scheduled calls and meetings, and any notes or comments from team members.

Fully Integrated with other Odoo Solutions

SME & Medium Businesses benefits

A Simple CRM to manage your sales team
Online quotations builder to boost sales team productivity
Follow your orders in one place and improve customer experience
Integrate with your inventory and accounting to avoid mistakes and improve control

Best for Small Business: Standard Odoo Implementation >
Best for SME: Custom Odoo Implementation >
Large Business Benefits
All benefits for small businesses +
Improve your business model with self-services customer tools: customer portal, ecommerce, online payment, etc.
Use data to better manage your sales team and to unlock upsell opportunities
Implement a true omnichannel strategy to improve customer experience and boost sales
Best for Large Business: Advanced Odoo Implementation >

Discover How Odoo Can Benefit Your Company

Simple Hardware and Odoo

Learn how the Internet-of-Things startup succeeded in improving business processes by adopting the Odoo ERP system with the help of Port Cities.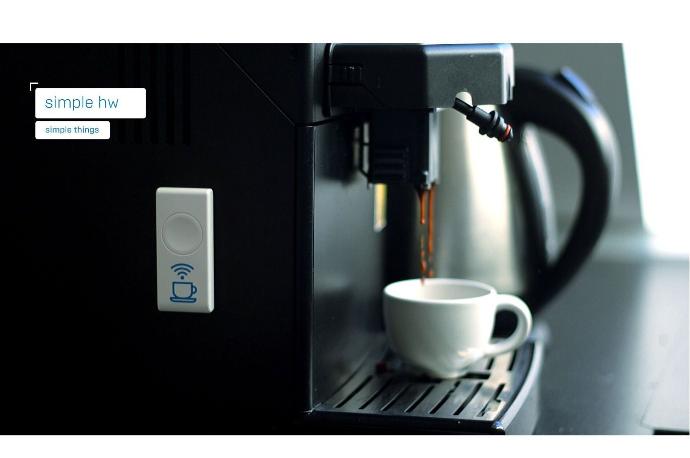 You Deserve a Partner Who Understands

We are a certified Odoo Gold Partner with Odoo Sales experts across offices in 11 different countries and 4 continents.

As APAC's top Odoo partner for four consecutive years (2019-2022), Port Cities is an international team that collaborates to solve complex projects and elevate your business.

Odoo experts at Port Cities provide high quality implementation that can give your business a competitive edge, streamlining operations for greater efficiency and success.

Get your ERP properly implemented

Odoo is a solution that can cater to the needs of any company, regardless of size. However, the implementation process, methodology, and budget may vary depending on a company's specific requirements.
Our team has extensive experience in implementing ERP systems, and can provide advice on optimizing processes and workflows to improve business efficiency.
Port Cities News and Case Studies
Your Dynamic Snippet will be displayed here... This message is displayed because you did not provided both a filter and a template to use.