"Social media is replacing emails" or "Millennials don't use emails", you've probably heard these myths and wondered if email marketing was dead. It is not extinct!
In fact, 99% of us check our email every day.
Email is used by 73% of Millennials to communicate with businesses. 
Furthermore, the global email user base is expected to reach 4.6 billion by 2050.
People of all ages love emails. Despite the rapid growth of social media and other marketing channels, email marketing remains a direct, cost-effective, and effective tool in the marketer's toolkit for connecting with leads and converting them into customers. The success of your email campaign is heavily reliant on how well you craft it.
Are you looking for something that will help you optimize your email campaigns? That's exactly what you'll get from this step-by-step guide on how to create an effective email marketing campaign, avoid embarrassing blunders, and achieve the best results.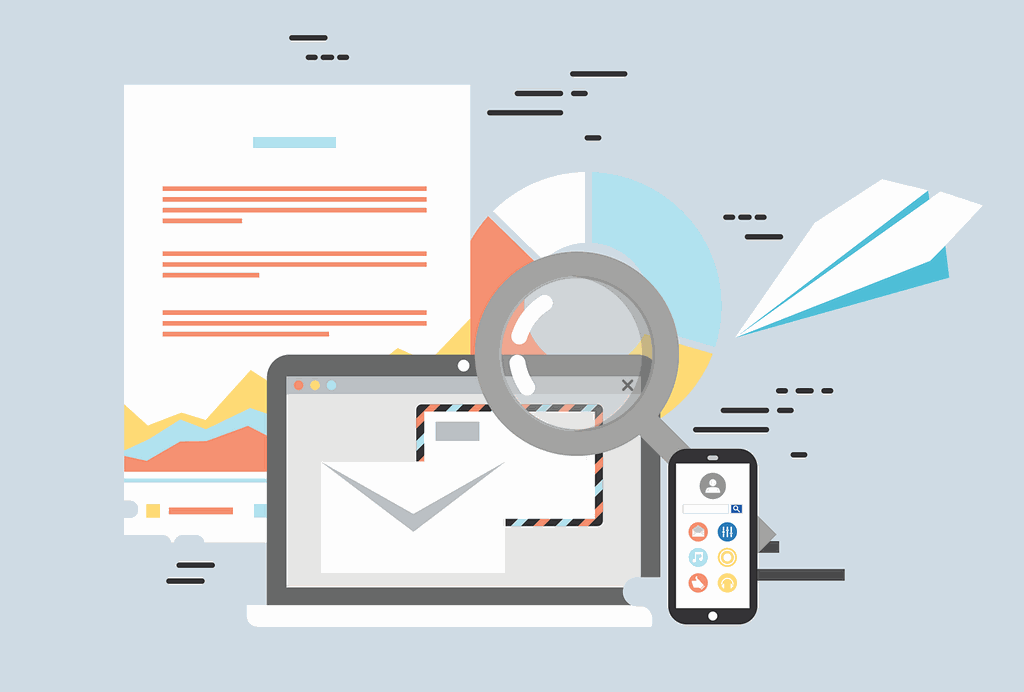 Email Marketing Campaigns
What is Email Marketing?

Email marketing is a form of direct, digital marketing that you can use to communicate with your business prospects and current customers. There are emails designed to promote your products and services while nurturing leads and encouraging their engagement.
Unlike cold email marketing (outbound marketing), which targets leads found on your own, email marketing (inbound marketing) targets specific contacts who are aware of your company and have opted-in to receive email communications from you.
Email marketing is classified into two main types: promotional emails and 'branding' emails. Depending on the target audience, the goal of marketing campaigns, you can craft your emails with interesting and valuable topics.
What are the benefits of an Email Marketing Campaign?
The benefits of email marketing campaigns are huge. They drive your business's revenue in many aspects:
Increase your customer conversion rate
Email marketing outperforms other marketing channels, including social media, in terms of conversion rate. People typically use social media channels for pleasure, so they easily miss the messages in their news feed, especially if you do not put money behind the posts. Emails, on the other hand, are primarily used for business purposes. You have your own list of customers and opt-in leads, allowing you to understand their behaviors on an individual level, such as which products/services they purchased, what emails they opened, or which links they clicked on.
For example, you are operating a nutritional food business, which means that your customers are probably health-conscious people. Promotional emails, such as "Giving 50%-off code for a new subscriber when you buy combo products" or "Buy a combo, Get a 50% off code for next purchase", will immediately interest your customers.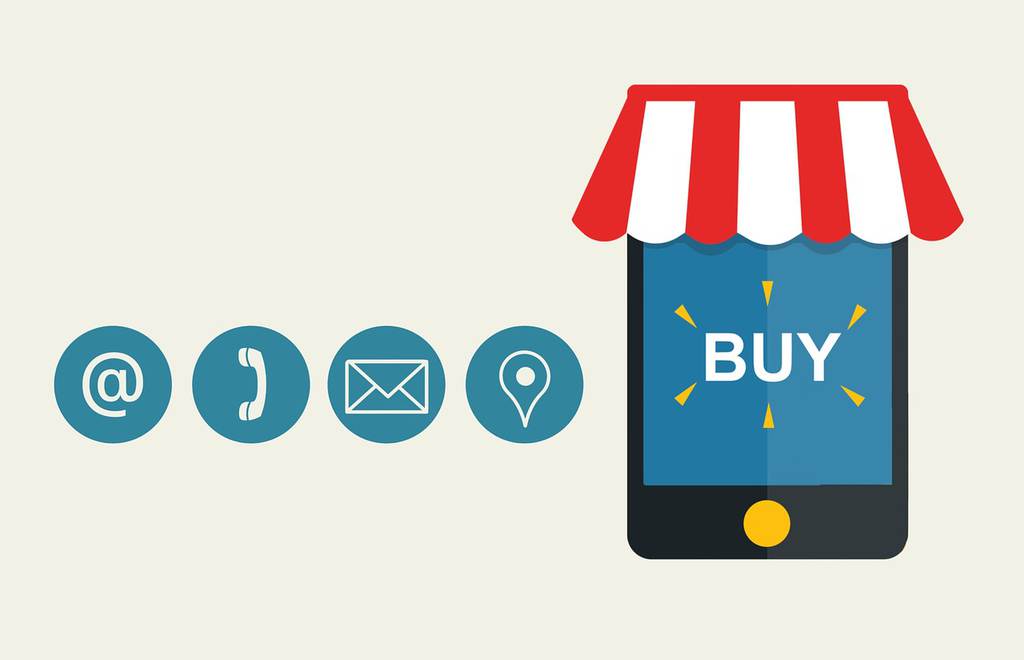 Therefore, staying in touch with your customers regularly via warm personalized emails helps you convert prospects into customers and one-time buyers into your loyal customers.
Improve your brand awareness
Thanks to users' daily frequency of mailbox checking, emails have the potential to catch more attention than other marketing channels. Subscribers easily keep an eye on follow-up information with marketing emails on the same subject. Email marketing can also help you build brand awareness among customers at a low cost. Unlike social media, magazines, or television channels, you can save the printing costs or fees for running advertisements with email marketing.
An informational email campaign will be a great choice if you're aiming to improve brand awareness. You can segment your audiences by their favorite products, based on that, the informational emails may include an introduction of a new product collection, calls-to-action to your e-commerce platform, or your articles/blogs that talk about the products.
When leads turn into customers and customers come back for more because they love your products/services, you've succeeded in generating loyal customers. You can build loyalty with email marketing by using promotional campaigns with special deals, invitations to special events, ambassador or referral programs, and so on.
Consider a beauty & health service provider, such as a beauty clinic, where the majority of customers sign up for membership to benefit from regular spa services. The company can segment its customers based on membership levels to create promotional email marketing campaigns, such as offering them a free combo of skin testing and skincare products to celebrate their one-year membership.
This is a win-win marketing strategy to increase sales while building customer loyalty.
How do I properly launch an email marketing campaign?
Keep it simple. There are 3 big steps to kick off your first email marketing campaign:
1. Choose the right Email Service Provider (ESP)
First and foremost, you should think about selecting an Email Service Provider (ESP). Ask yourself this question: is it really necessary to pay for this service? 
Technically, it is possible to send mass emails using Internet Service Providers (ISPs) such as Gmail, Outlook, and others. These services, however, are intended for personal use and have limitations in email bandwidth, design, related metrics, and email deliverability. Importantly, when sending an email blast, your account can be disabled if there is suspicious activity.
Email Service Provider, on the other hand, is a platform for managing email marketing campaigns. ESPs are built with the necessary infrastructure to allow users to store and segment contact lists, create emails with a variety of email template options, send emails (manually or automatically), and track email metrics.
Let's take a quick look at how emails get sent by mailing servers. Let's compare an email newsletter to a postcard that requires a stamp to be sent out; an outgoing mailing server serves the same purpose as a stamp, which is to send out the emails. You can set up your own mailing servers by using Gmail or Microsoft Outlook, or work with specialized ESPs like Sendgrid who support you in managing mailing servers and controlling your mass-email marketing campaign.
With hundreds of ESPs on the market, you should assess your requirements before deciding on the best one. Budget sizes, the number of contacts, email types, and so on are all important considerations.
Odoo, a versatile open-source ERP, provides an Odoo Email Marketing app for businesses of all sizes. The app is designed for non-IT users and is compatible with both Odoo versions, Odoo Community and Odoo Enterprise. Inevitably, Email Marketing has some limitations in terms of available features in the free Odoo version, such as a lack of email marketing automation features. In contrast, Odoo Enterprise offers the app's full feature package at a reasonable price. Additionally, if you are using Odoo Online/Odoo.sh, you have a trial database with a limit of 200 emails daily and possibly request to raise this amount. However, it is oftentimes not sufficient for email marketing purposes.
2. Build your email lists
Secondly, it is critical to populating your mailing lists with interested customers and opt-in subscribers.
Opt-in subscribers: prospective customers who contact your company by completing a subscription form on your website, landing pages, social media, or elsewhere.

Existing customers: those who have previously purchased your goods or services.

Tip: Create inclusive customer profiles to better understand their needs and to add relevant personalized content to the list.
Both of those customers are eager to hear from you, particularly your existing customers who are expecting product/service innovation. Creating comprehensive customer profiles from a pool of existing customers is therefore critical to better understand their needs and better your customer services. It is a good idea to profile them based on segments, such as demographic (age, job title, income, status, etc.), geographic (country, city, area, region), behavioral (product usage, purchasing history, satisfaction, etc.), or psychographic segment (lifestyle, goals, habits, etc.,).
Apart from the segments mentioned above, firmographics should be considered if your company is in the B2B space. There are several factors to consider, including industry, company size, location, revenue, and customer type.
Furthermore, it is recommended that you segment your recipients based on specific campaign goals in order to create an effective and targeted email marketing campaign. They could be a newsletter series, marketing offer, announcement, event invitation, etc. The more relevant and personalized the email content is, the better the results.
Remember: Marketing emails should not be sent to outbound leads who might not know about your product/service, as this can harm your company's image. Nobody likes spammers.
3. Craft your emails
Now that you've determined your campaign objectives and compiled a list of target audiences, it's time to fill the email template with words.
The first email is always crucial to the success of your email marketing efforts because it explains the basics of the process and what recipients can expect from your mailings. Therefore, your marketing emails should offer value and speak about topics that interest your target audience with a conversational tone, in relevant great email designs from the outset. Moreover, the adult's attention span is typically only a few seconds, you can assume that they will not read your email word for word. You should structure your emails with neat content, a strong call to action, and visual engagement.
Tip: Start with an intriguing subject line and preview text.
Email marketing is a simple and effective marketing strategy, which is thus hugely competitive. Stimulating recipients' curiosity to open your emails with an intriguing subject line is key. A nice title should:
Limit within around 50-60 characters;

Highlight keywords of your message;

Appeal to your customer with an emotional tone of voice.

For example, you can include the customer's first name in your subject line to make the email more personalized; or include a number in it to increase the open rate. Furthermore, utilizing preview text to summarize your email content can also boost the open rate. Whether on mobile devices or desktop computers, getting your readers hooked even at a notification box ensures a higher open rate.
Additionally, for opt-in subscribers, a welcome email is required to express your gratitude for their subscription, who you are, and what they can expect from you. It is critical to embed your subscription forms into your company's websites or other locations with a very clear signup promise, allowing you to increase the number of opt-in leads.
Remember: Always include an unsubscribe link on your emails, as required by anti-spam laws. Individuals have the right to withdraw their consent to receive emails from you; in the meantime, you can optimize email deliverability for your campaign.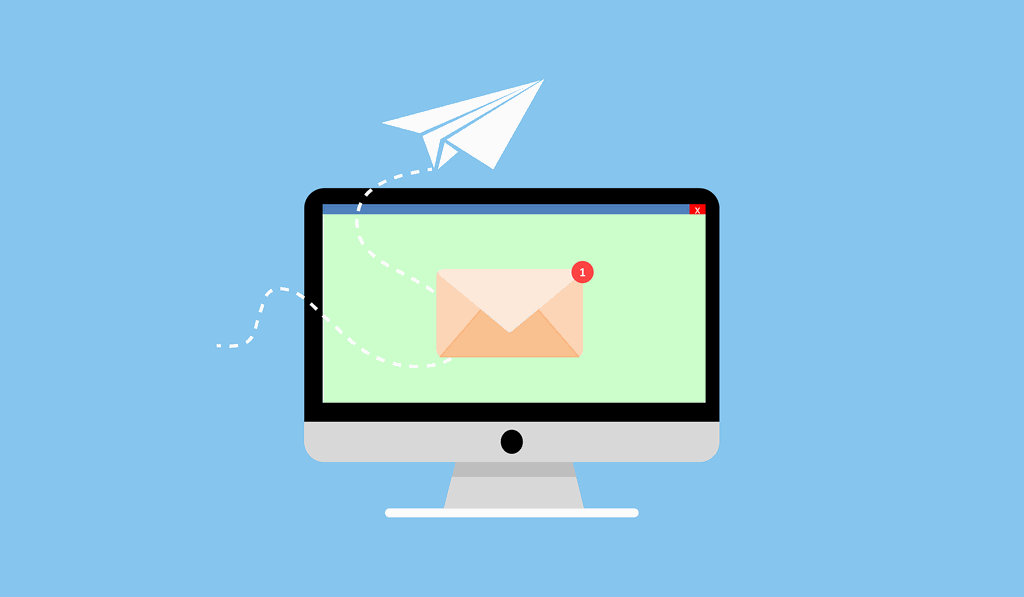 Improve Your Email Marketing Campaign With Odoo Email Marketing App
What is Odoo Email Marketing?
Odoo Email Marketing is a cutting-edge app in the Odoo Marketing Application Suite. It enables users to create email campaigns that resonate with prospective customers without any prior IT knowledge. 
This app allows you to build an awesome campaign with useful features. You can easily segment your lead/customer database into targeted groups; create emails with a few drags & drops; optimize email newsletters for display on any device; track email campaign statistics; and synchronize with other Odoo Marketing apps.
How to build an effective email marketing campaign with Odoo Email Marketing?
1. Build your lists of mailing contacts
Odoo Email Marketing enables you to segment your mailing lists by creating mailing contacts or importing an existing list of contacts.
To create a mailing list in Odoo Email Marketing, you go to Mailing Lists → Mailing Lists → Create, also enable the option Is Public to make the list visible to recipients in the unsubscribing page, where they can update their subscription preferences.
Once a list is created, you can manually create contacts by clicking the Create button, or Import a list of contacts if it is available on your previous tool, such as Odoo CRM.
You can also create a website pop-up content set on your website where visitors can sign up for the subscription form.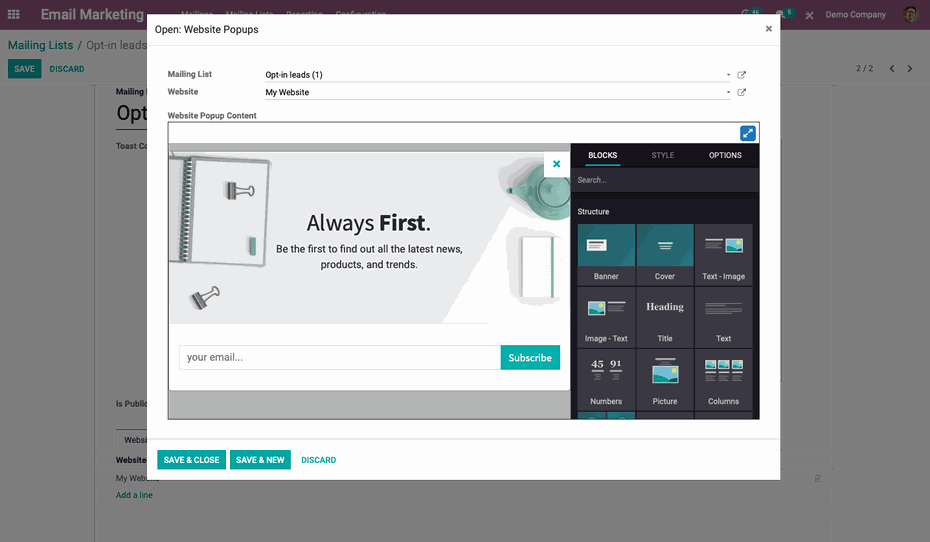 Under Mailing Lists → Mailing List Contacts - you can see all contacts included in all of your mailing lists, as well as create/import new ones separately. A mailing contact can be on multiple mailing lists, and you can view or add mailing lists directly from the mailing contact form.

Take an example below, in the mailing contact form of the customer/lead named Emily, you can add/create mailing lists, such as Newsletter, Promotion, etc., under the Mailing List option.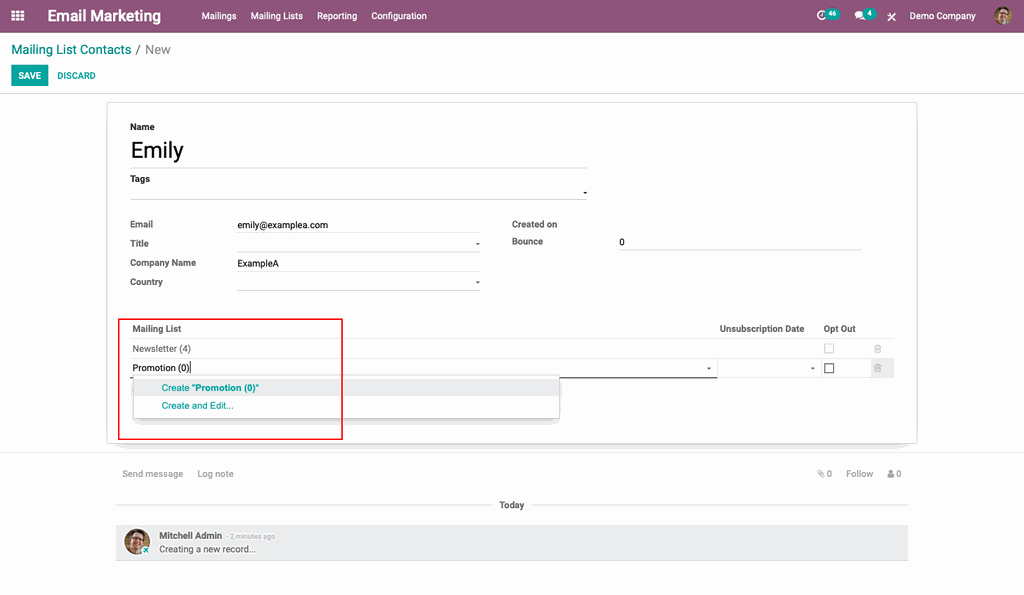 Odoo Email Marketing is also fully integrated with other Odoo marketing apps. There is, however, no link between the mailing contact and its information stored in the Contact module. This feature is only supported by external modules, such as the one designed by Odoo Community Association (OCA).
2. Create multiple campaigns
Before you start creating mailing content, you should establish a clear goal for your email marketing campaign. 
By enabling an email campaign in Odoo Email Marketing, you can set either hyper-specific or broad goals. This option enables you to manage mass mailing campaigns and centralize the metrics for all of your marketing channels. 
To begin, you go to Configuration → Settings and enable Mailing Campaigns, then click Save. The Campaigns' menu item will be visible on the toolbar.
In the Campaigns option, you click Create to build a new campaign. You can either send an email, a social post, or you can make a push notification in one campaign, as long as you have a social marketing app installed in your system. The SMS channel is also supported in this Campaigns feature, but you will be charged for configuring it.
The related mailings or notifications created will be available to see in the Campaigns overview, along with all relevant data metrics. In this option, you can also manage the accounting activities for your specific customers, such as quotations and revenues. A huge benefit for Odoo users is that all Odoo applications are integrated.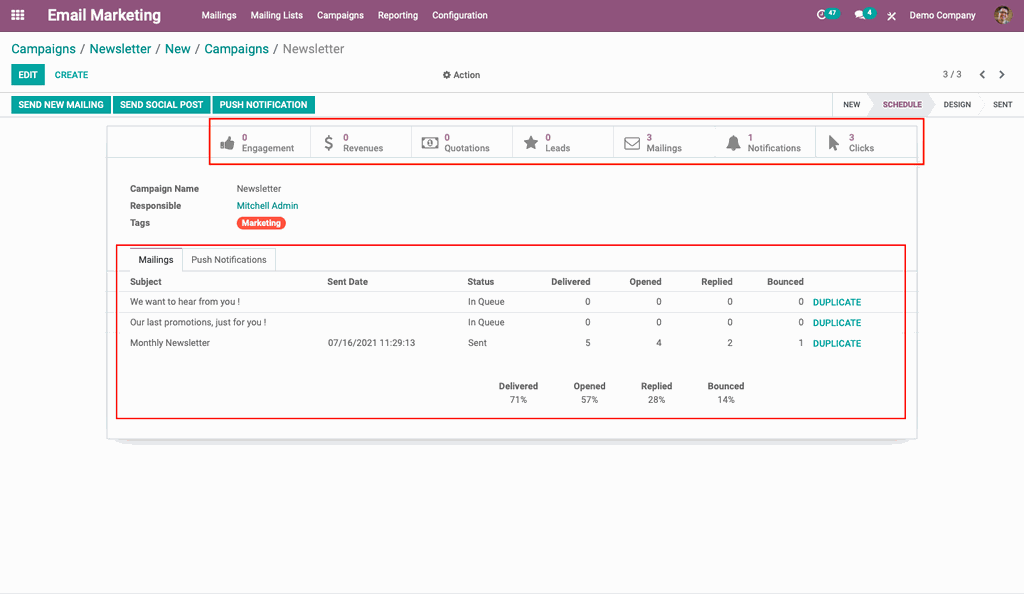 3. Build great responsive-design emails
Go to Mailings → Create, a new email is ready to create.
Before jumping into the mailing design, there are three elements you must define, including subject line, preview text, and recipients. Odoo allows you to directly select your target audience to send your emails to in the Recipients field. "Mailing List'' or "Mailing Contact" are the preferred options for most email marketing campaigns whose recipients are opt-in subscribers as they enable users to set up the unsubscription option for mailing contacts. Meanwhile, other options of recipients do not support that feature.
Additionally, because Odoo Email Marketing is fully integrated with other Odoo marketing apps, you can directly add specifications to match certain contacts, filtering your target, such as your leads/opportunities, applicants, etc.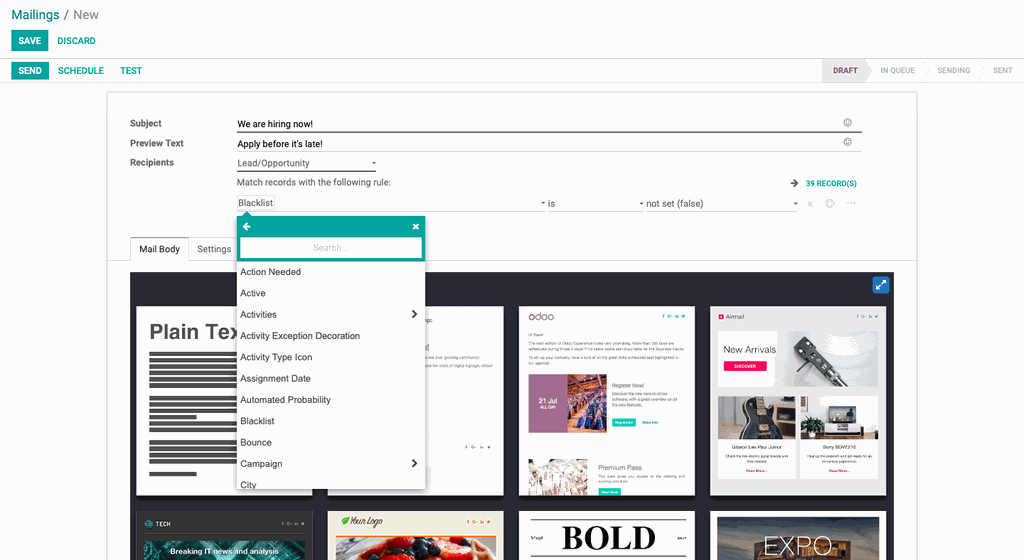 Creating a marketing email with an attractive design has never been easier with Odoo Email Marketing. It's now time to create your email copy using pre-built customizable templates. 
Under Mail Body, you can select a layout and make changes with Odoo's drag and drop editor. Otherwise, Odoo provides clean, simple, and hassle-free designs, allowing users to save time with pre-made email templates. More interestingly, if you have designs from a third-party design agency, you can also upload your own HTML code into the Odoo platform.
Tip: Design emails that are optimized for mobile viewing.
You don't have to worry about adjusting your email templates to adapt to the recipients' screens. This application ensures that your emails will be displayed optimally on any device - mobile, laptop, or tablet by automatically adjusting the distance and optimizing the images included in your emai.
Under Settings, you can select who is responsible for sending & receiving emails. You can also include your mailings in specific campaigns for easy tracking.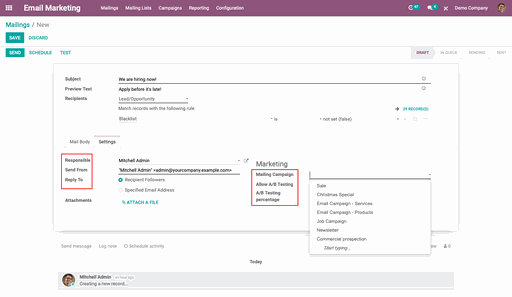 Tips: Enable A/B testing percentage to determine which mailing version receives the most engagement and stick with it.
It is better to enable the A/B testing. It is split testing allowing you to find out which of the two campaign options generates higher open and click rates, and when is the perfect time frame to send your email. By choosing this option, the system will send emails randomly to the selected recipients in the mailing list. They will be mailed once only for the whole campaign in order to test the effectiveness of emails and avoid duplicate messages.
When you've finished your work, click the Save button. Your mailings will be saved in the Kanban view's draft column and you can edit them at this stage anytime.
4. Test and Schedule your marketing email

Never stop testing, and your advertising will never stop improving.
- Ogilvy David
It is important to always perform a test before officially hitting send an email. Small mistakes can easily go unnoticed and harm your brand image. In Odoo Email Marketing, you can test each email and create a schedule for it.
Click the Test button and send your email to one or multiple sample contacts to check its display, copy, design, and buttons.

The Schedule feature allows you to choose a date and time when the email will be automatically sent. You don't need to keep an eye on it.

Click the Send button to send the email to all relevant recipients.

The mailings will be moved to the in queue column after they have been sent. This feature gives you more buffer time to edit/cancel the emails if there are any unexpected issues. 
5. Track the result of your email campaign
Following the launch of an email marketing campaign, you should review key email marketing metrics to have a better understanding of your campaign results and optimize the next campaign.
Email Marketing in Odoo allows you to easily review not only campaign metrics (opened rate, bounce rate, clicked rate, replied rate), but also the number of leads created, orders, and revenue generated, all of which can help you improve your overall marketing strategy. You can track the metrics by going to the Mailing or Campaigns menus.
Tip: Increase the rates with email personalization.
People love to read messages that appear to be written only for them; therefore, you can improve the rate of email metrics by personalizing your content. For example, you can dynamically configure the contact name, company name (if applicable), or title into the body of emails by placeholders whose values will automatically be filled in the messages based on the corresponding contact information of the recipient. Also, the message should be expressed in a natural tone of communication.

Besides, for unsubscription management, the Odoo email service platform includes an analytics dashboard with Blacklist options.
To set it up, go to Configuration → Settings and enable the Blacklist Option when Unsubscribing. When a recipient clicks the Unsubscribe link in your email, he can blacklist himself, which means he will no longer receive marketing emails from you.
Under Configurations, you can also view the history records of blacklisted email addresses.
Tips: Only send to opt-in subscribers & clean up mailing lists regularly to avoid high unsubscription rates.
Need help setting up your Email Marketing?
With Odoo Email Marketing, you can freely experience seamless email marketing campaigns.
Remember, you can build more than just a "warm-up" email marketing if you incorporate professional looks into your campaigns and their setups. Port Cities offers personalized consultation to discuss your business needs and show how Odoo can make your email marketing excellent. Contact us or schedule a demo with us!